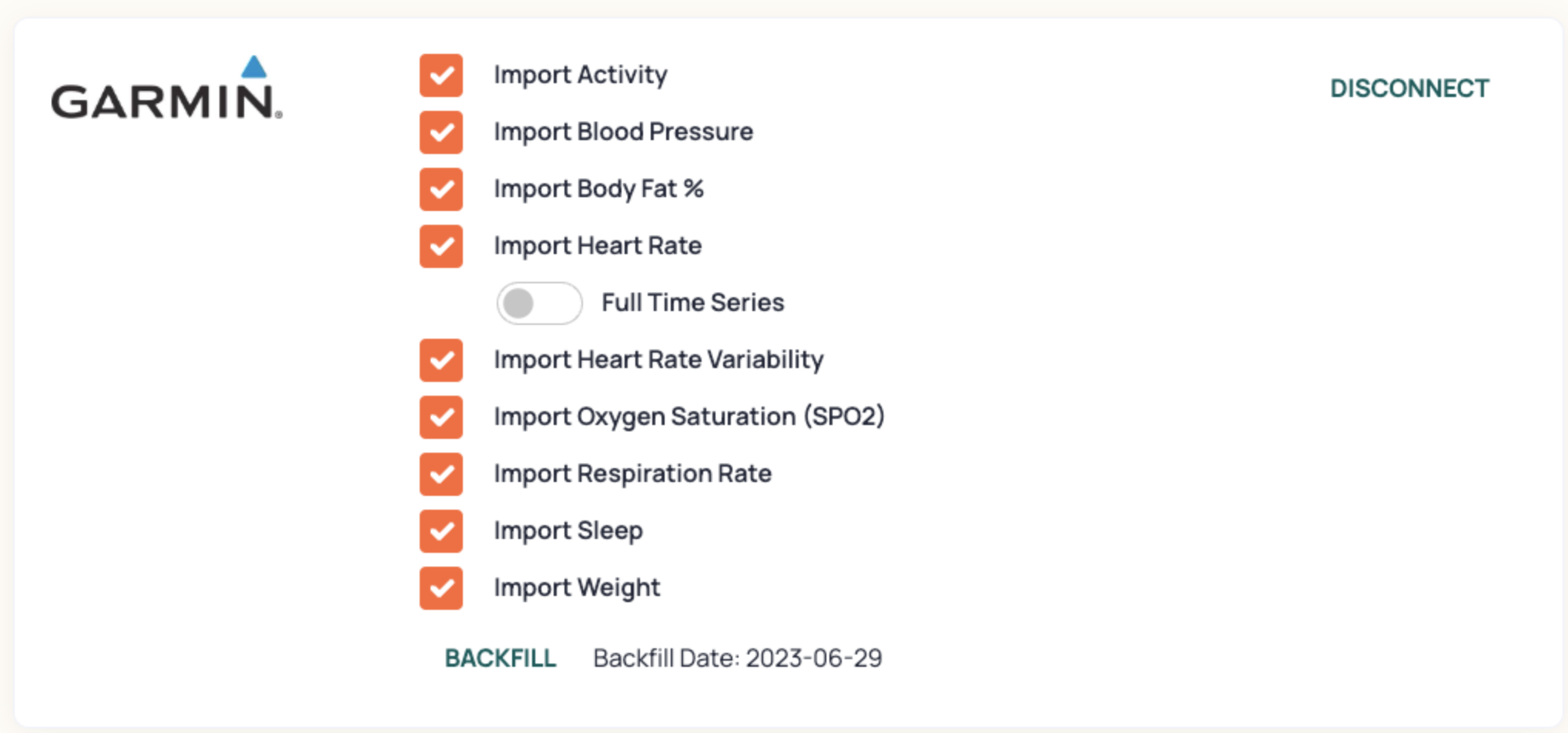 Imports:
Cronometer imports the following items from Garmin:
Weight
Body Fat percentage
Sleep
Exercise
General Activity (Called 'daily activity' in Cronometer)
Heart Rate
Blood Pressure
HRV
SpO2
Respiration Rate
Timeseries Data:
Import full data for the day instead of a single entry per day. When importing the full data, click on the diary entry to see a chart for your day
You must toggle on full time series in your Garmin device settings in order to see this.
Backfill:
You can backfill up to two years of Garmin data in your Cronometer diary.
Once you have linked your Garmin to Cronometer, you can only backfill the same dates once. Select a date in the past and Cronometer will backfill between this date and today. When selecting a further date in the past, Cronometer will request a backfill from this new date to the existing backfill date.
If you need to backfill the same dates again, please disconnect and reconnect your Garmin account from Cronometer
Troubleshooting
Connection issues
If you are experiencing issues importing data from Garmin into your Cronometer account, please first ensure your device is importing data to your Garmin app. Then refresh your Cronometer diary (pull down to refresh if you are using the mobile app)
If you are still having trouble importing data, please try reconnecting your Garmin app to Cronometer.
1. Log into Garmin Connect
2. Go to Settings > Account Information > Connected Apps
3. Disconnect Cronometer
4. Reconnect to Cronometer. Go to Cronometer > Settings > Devices > Garmin > Connect​
General Activity and Exercise:
Cronometer imports Active kcal (as shown in your calorie details) and individual exercise kcal values from Garmin. Active kcal will not be shown in your Cronometer Diary. In Cronometer, Daily Activity and Exercise will be displayed - The difference between the two makes up the Imported Activity value.
Daily Activity (imported from Garmin) = Active kcal - a total of individual exercise kcal values
.
For example: 1316kcal (Active Kcal) - 176kcal (exercise) = 1140 kcal (Imported Activity)
Double counting/ incorrect data
Cronometer integrates with
Garmin
Oura
Fitbit
Strava
Withings
Whoop
Polar
Dexcom
Ketomojo
Biosense
Suunto
Qardio
Apple Health
Google Fit
Samsung Health.
Please ensure you are only importing data from one device integration. If you have more than one of these integrations connected you may see incorrect values imported into your diary.
Please also note, if you are importing data from an unsupported integration into one of our supported integrations, we cannot guarantee that the dat will be imported without error.