Link your Cronometer account with Samsung Health to import your activity and exercise, biometrics and sleep directly into your diary.
Cronometer Exports to Samsung Health:
Blood Glucose
Blood Pressure
Heart rate
Weight
Cronometer Imports from Samsung Health:
Blood Glucose
Blood Pressure
Exercise (currently only logged exercise; General activity is not imported to Cronometer)
Heart Rate
Sleep
Weight
To link your account you must use the Cronometer mobile app for Android. If you do not have the app, you can download it from the Google Play Store.
You must also download the Samsung Health app from the Google Play store.
Once you have downloaded both apps to your device, and have set up your accounts, log in to Cronometer. Access the Settings tab and scroll down to Integrations. Choose Connect Samsung Health from the list of integrations.
This is where you can disconnect Samsung Health as well.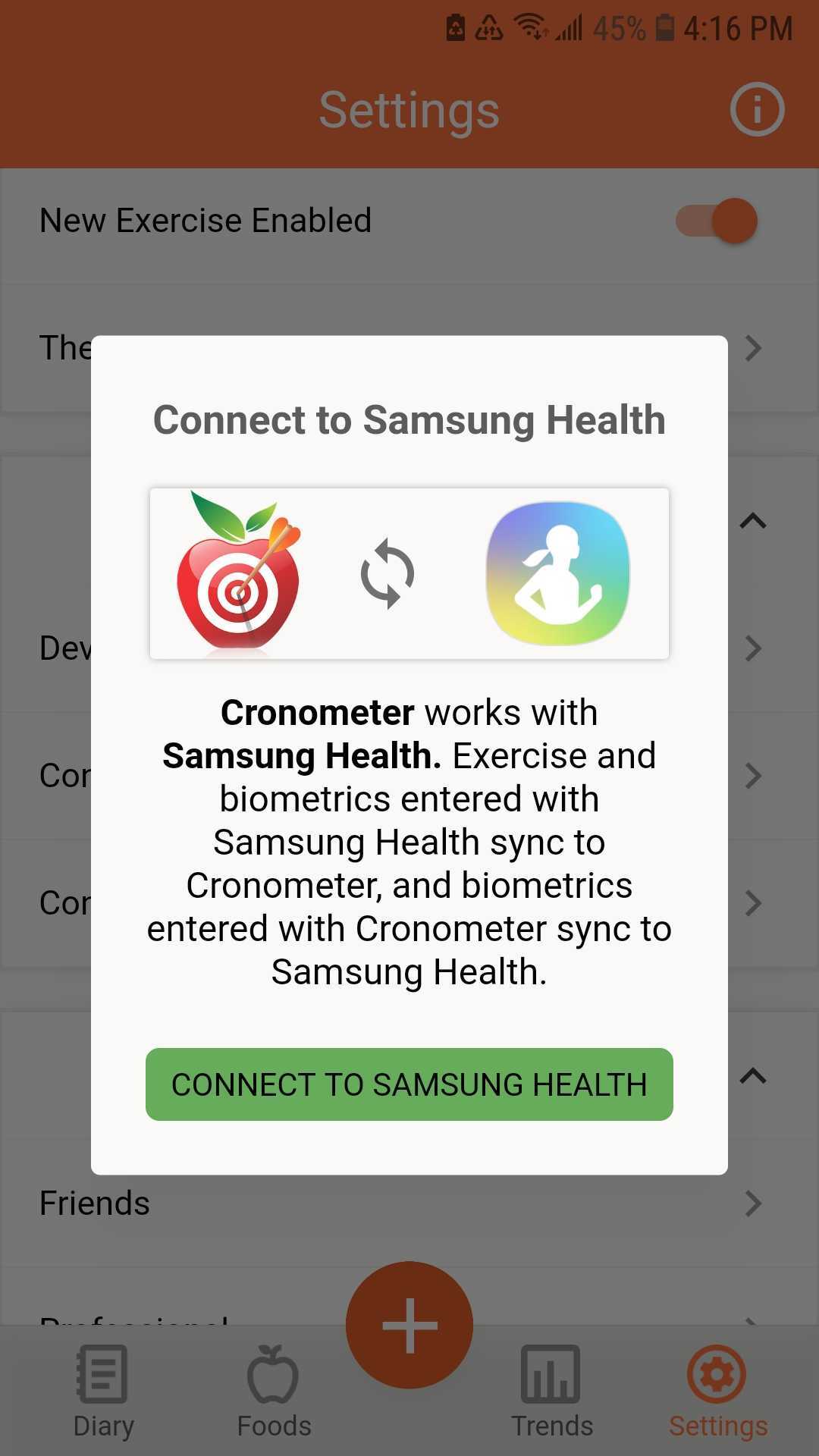 Connect to Samsung Health, then select which data in Cronometer you would like to share with Samsung Health under 'Allowed to write', as well as the data you would like to import from Samsung Health into your Cronometer account, under 'Allowed to read'. You must allow permission to read the data you would like to import into your Cronometer account.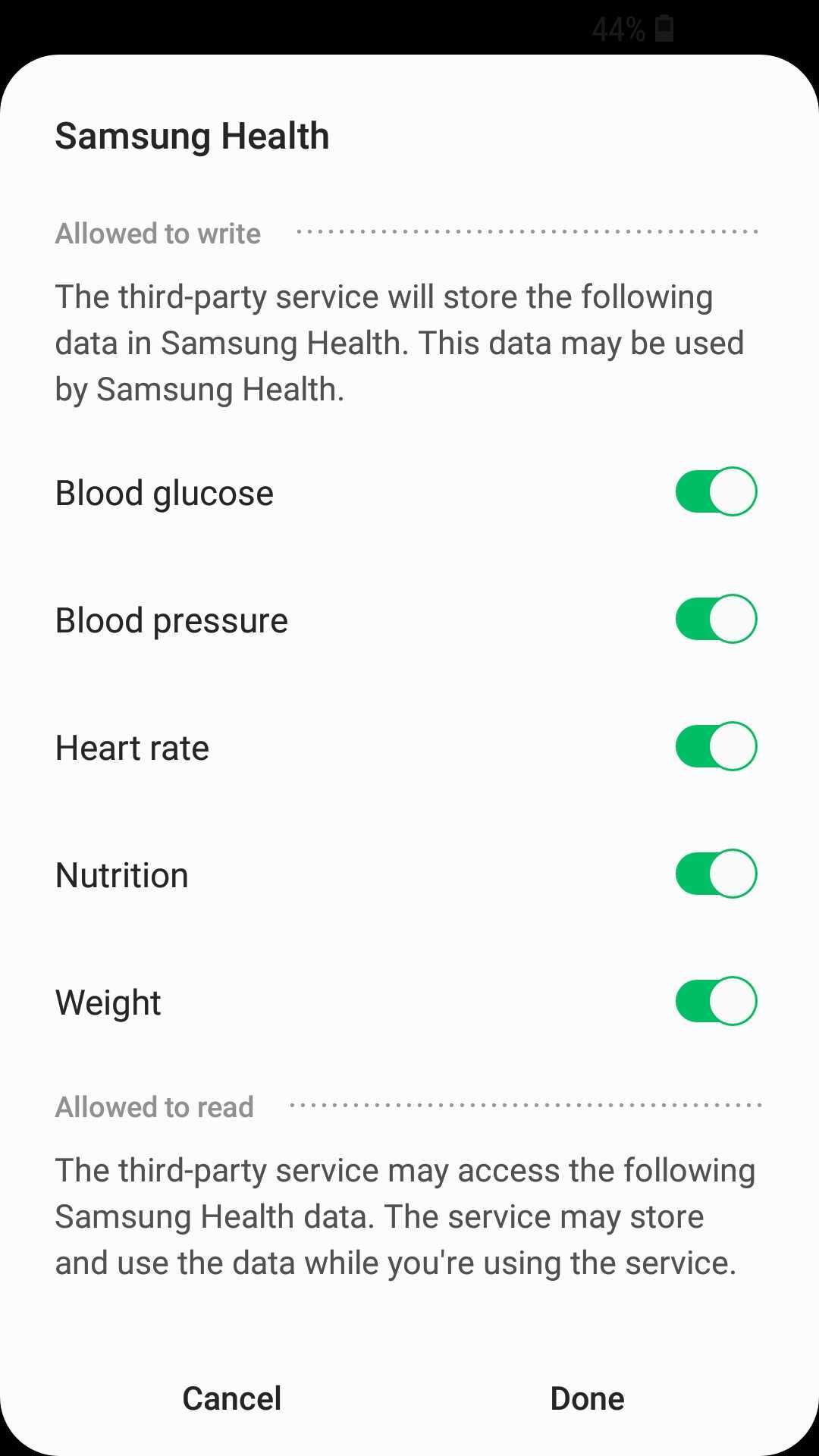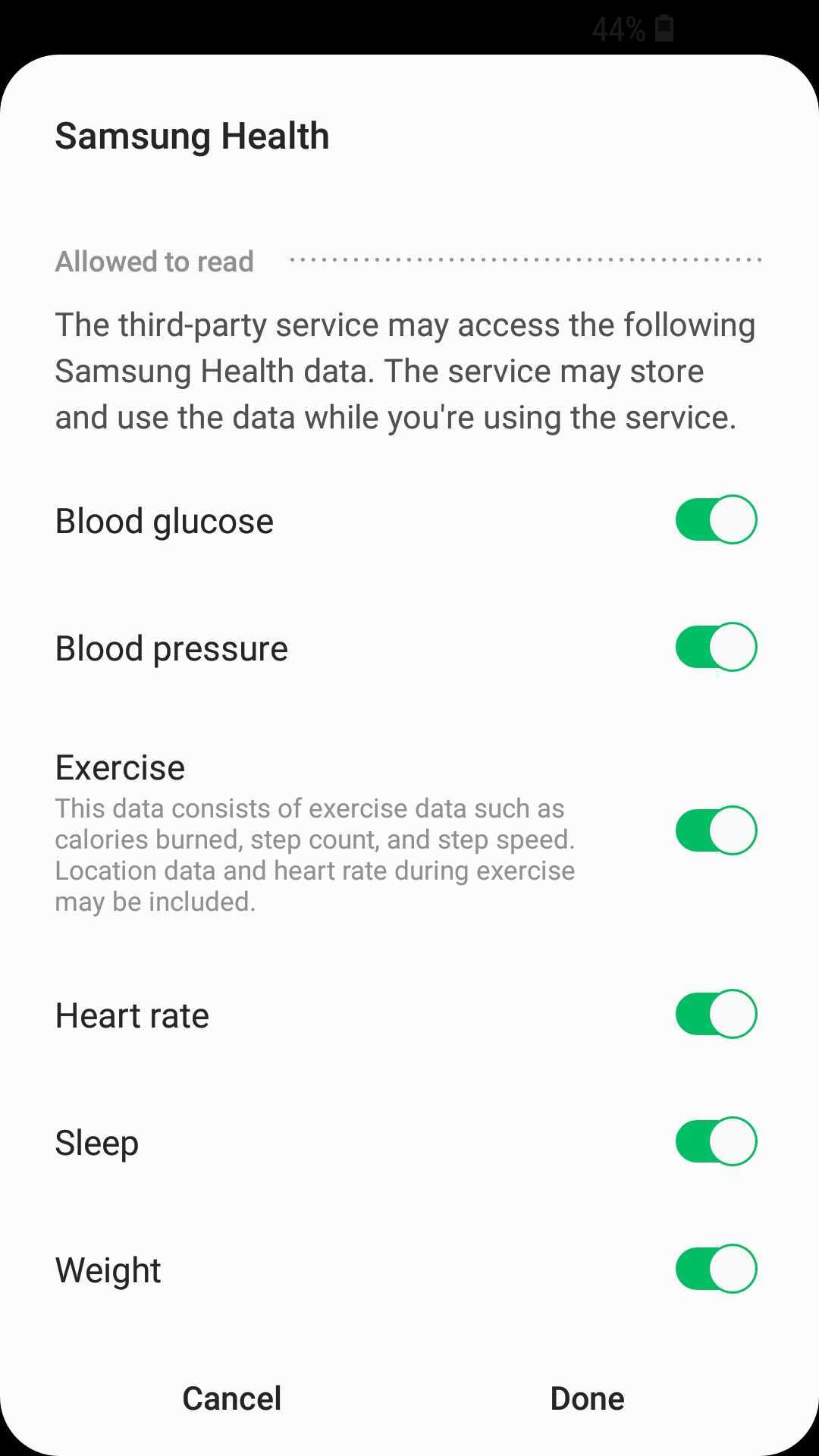 If you are tracking activity with Samsung Health, ensure you have set your Activity level to None on your Cronometer account.
If you are unsure if Samsung Health is connected to Cronometer, you can confirm by opening your Samsung Health app and accessing the menu. Here, choose the settings menu from the top right corner.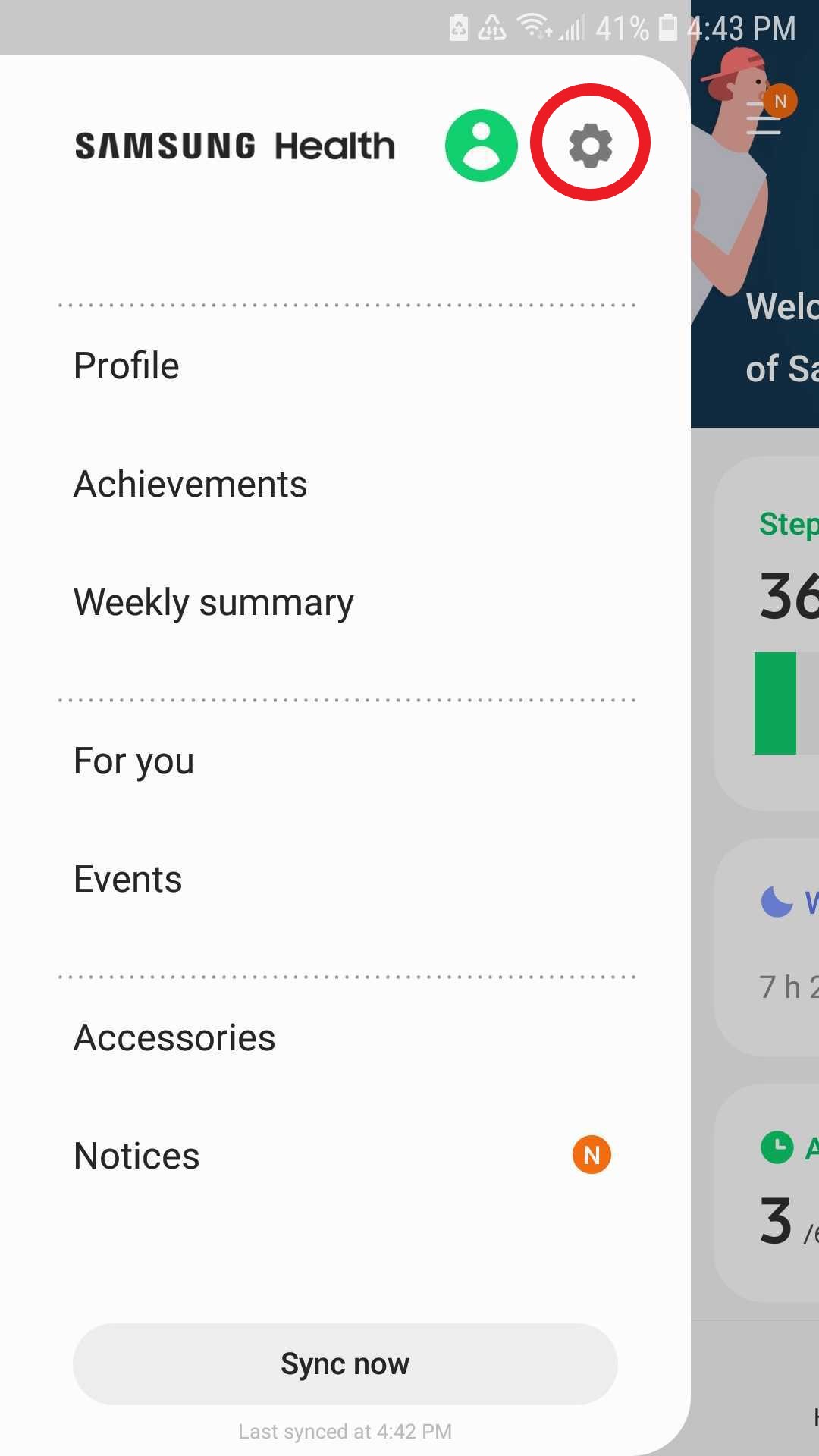 Under Data, select Data permissions from the list of settings.
This will open a list of your apps that are currently synced with Samsung Health.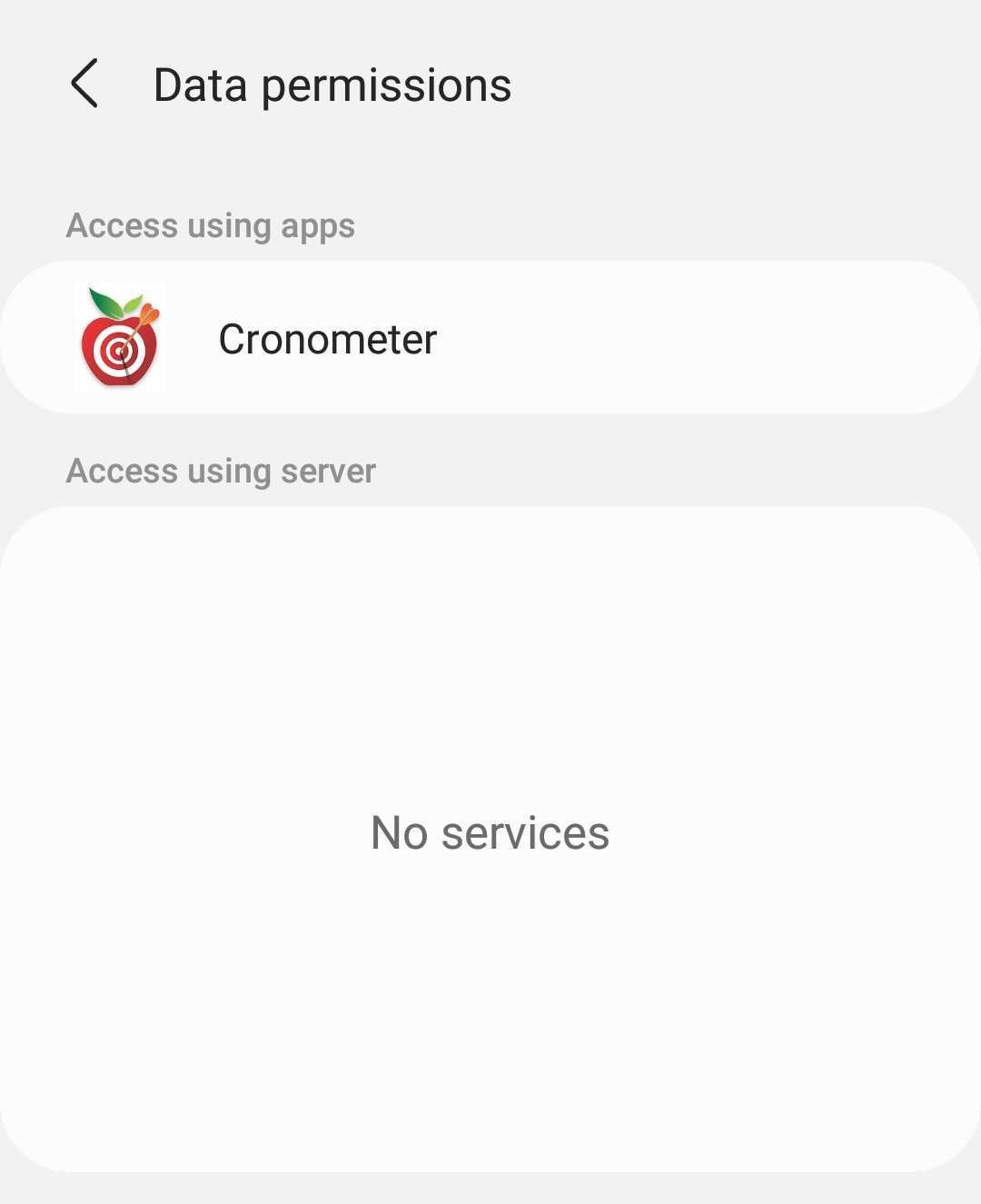 Select Cronometer from the list to see what you have granted permission to share. You can make changes to your data permissions here, too.
Troubleshooting
Any time you link two apps together, there is of course more chance of error; feel free to reach out to us at any time for help at support@cronometer.com and we will be happy to help! Before reaching out, it is recommended to try these steps first:
Try uninstalling and reinstalling both apps. Once you have reinstalled both apps, re-link to Samsung health via Cronometer
Ensure Samsung health is syncing: Open you Samsung health ap and go to Settings. Then scroll down to "Sync with Samsung Account" Ensure it is toggled on, and the "last synced" date and time is up to date.
Ensure Permissions are enabled: Open Samsung Health and go to Settings > Data Permissions. Cronometer should appear in the list. (If it doesn't appear, open Cronometer, and try linking to Samsung health again) Tap on the Cronometer Tile to open permissions, and ensure all permissions that you want are toggled on
If Samsung data is not syncing to a certain date in Cronometer, try force refreshing: You can do this by using the Calendar Widget in your diary to select the date you wish to refresh, or, navigate to the date using the arrows, and pull down on your diary to refresh (A small refresh spinner will appear when you do this)
If you are unable to find success with these steps please don't hesitate to reach out to support@cronometer.com