You can see your daily nutrient intake compared with the USDA Dietary Reference Intakes (DRIs) by tapping on a nutrient target in the Nutrition Summary in the Daily Report or your Nutrition Report.
The DRIs define how much of a nutrient is required to maintain health, and how much is too much for the average healthy person. Your intake is shown by the orange arrow: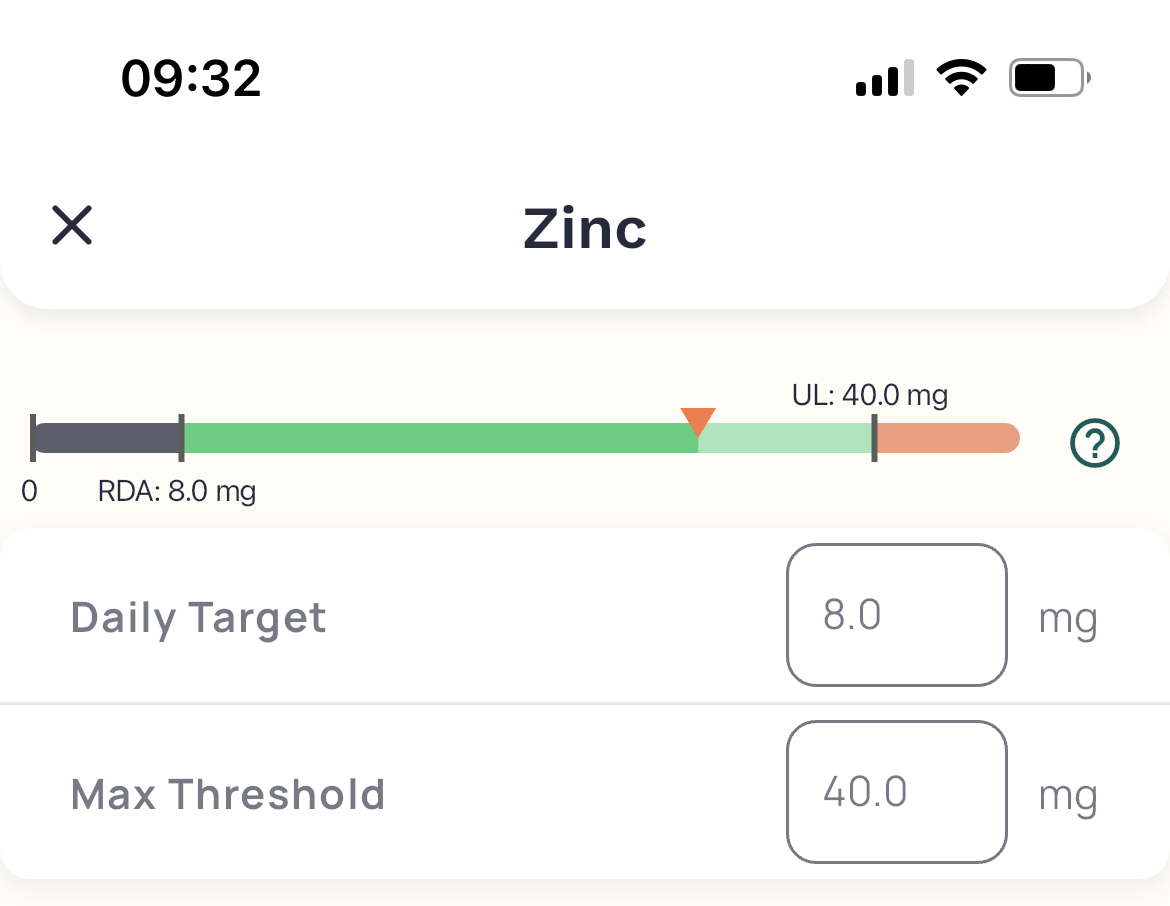 The RDA (Recommended Dietary Allowance) is the average daily dietary intake level that is enough to meet the nutrient requirement of nearly all (>97%) healthy individuals in a particular life-stage and gender group. If there is not enough evidence to establish an RDA, an Adequate Intake (AI) is recommended instead, based on the best data available at this time.
Some nutrients also have a Tolerable Upper Intake Level (UL) defined. This is the maximum amount of a nutrient that is likely to pose no risk of adverse health effects. Regularly consuming a nutrient above this level may result in toxicity symptoms associated with that nutrient.
The UL for vitamin A applies to preformed vitamin A (retinol) only; vitamin A from plants sources are in the form of carotenoids (beta-carotene, alpha-carotene and beta-cryptoxanthin) and do not contribute to vitamin A toxicity. The UL for vitamin E, niacin, folate and magnesium apply to synthetic forms from supplements and fortified foods only.
By default, Cronometer will use the RDA or AI values to set your Daily Targets for each nutrient, as well as the ULs for the Maximum Threshold. These values help put your daily intake into context of the DRIs, but remember you can customize all nutrient targets in Cronometer to meet your individual needs. Learn how to customize your nutrient targets here.