This article will cover:
Add a Food
Tap on the + icon at the bottom of the diary
Tap on Add Food or Scan Food
Type in the name of the food you are searching for.


Tap on the food's name to open more options such as serving size, diary group, and the full nutrient profile.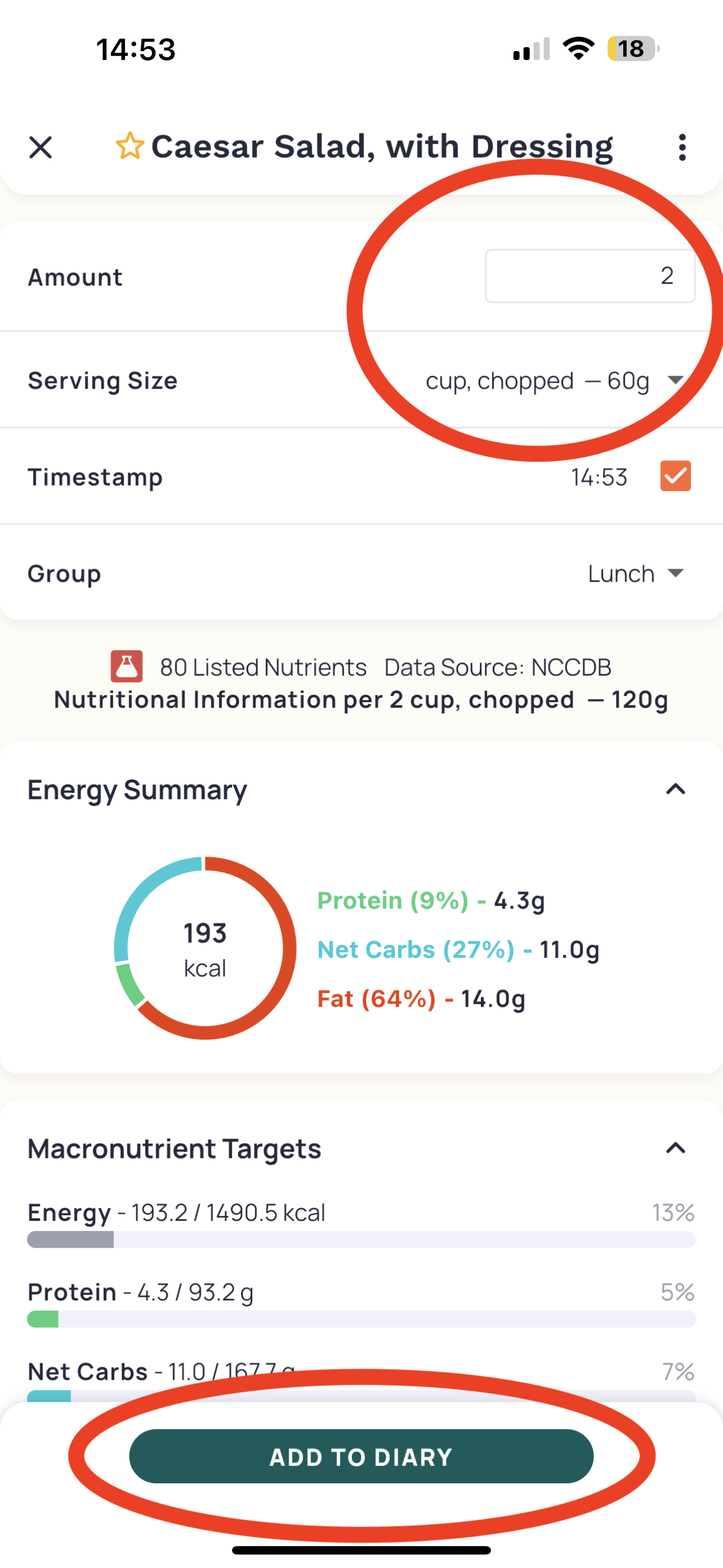 💡 Search Tip:
Start typing in the name of the food item you want to add. For example, type 'oats' to start seeing suggestions. You can enter keyword fragments separated by spaces to narrow your search. For example, typing 'soup car' will find results such as 'Carrot Soup'. You can also search by food number or barcode number. Results are ranked by a combination of how well the name matches your search, and how popular the item is.
To add multiple items to your diary at once:
Tap on the Filter Icon
Toggle on Enable Multi-Add


Check the boxes of the foods you wish to add.


Tap on Review Items to see a list of your selection.

Food Search Filter Menu
Tap the orange filter menu next to the search field to access different sorting and filter options.

Sort By
Choose how to organize the default list of foods displayed when you open the food search. Choose an option that helps you quickly and easily select foods to add to your diary the best.
Category Tabs
Use categories to narrow down your search results and make foods quicker and easier to find. Toggle on Category Tabs in Food search options to display the category tabs above the food search results.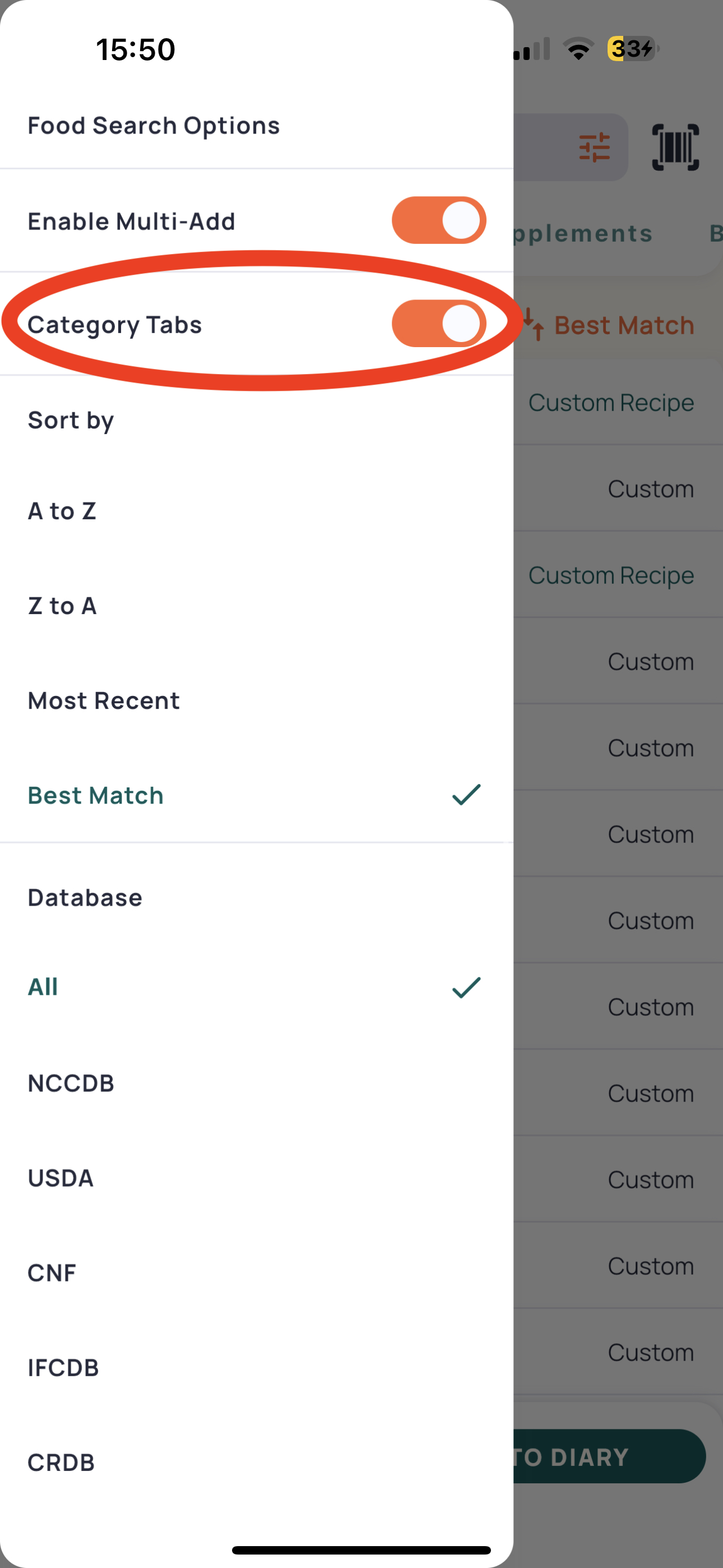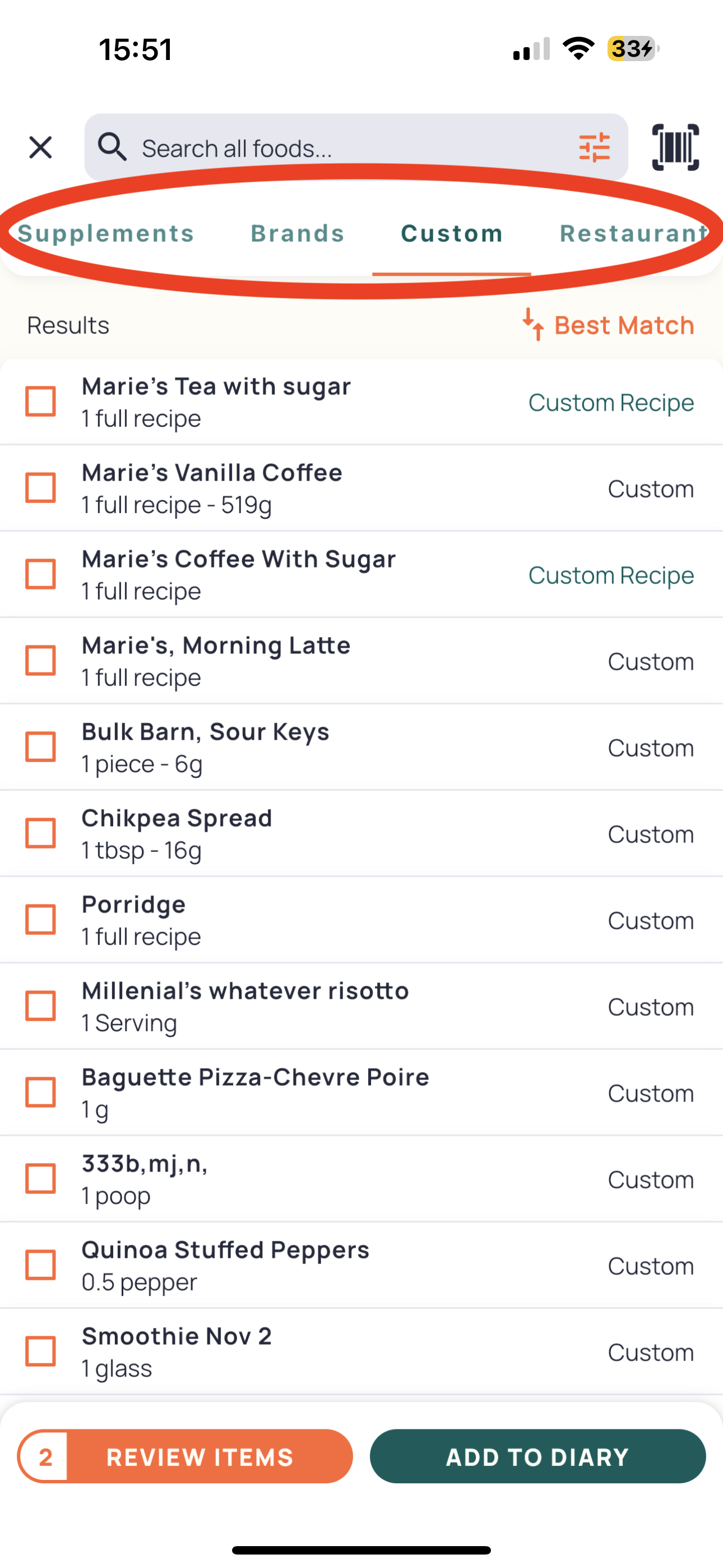 All: This tab shows all the search results for the text entered in the search box.
Favorites: This tab shows all the foods you have previously marked as favorites.
Common: This tab shows results from our highest-quality nutrition databases and will typically have the most nutrition information available for a particular food. To get the most nutrition information using Cronometer, we recommend searching for whole foods, and generic versions of your brand name products in this search tab.
Supplements: This tab shows results that belong to the Supplements category.
Brands: This tab displays results that are brand name products i.e. store-bought brands and common products you find on the shelves of the supermarket. These results often have fewer nutritional data because food manufacturers typically only report the nutrients required by law on the nutrition label. Foods found in this tab will often have a Better Alternative marked by one of our curation staff, offering a similar food with more complete nutritional data for you to add to your diary instead.
Custom: This tab displays the custom foods and recipes that you have created as well as the custom foods and recipes that have been shared with you by other users.
Restaurants: This tab displays foods ordered at a restaurant. Many restaurants provide some basic energy and nutritional data for the food they serve, much like the Brands category, this data is usually limited.
Database
You can search a single source of data, such as NCCDB, or a combination of databases using the filter menu. The databases you've selected is displayed at the top of the search results.
You can learn more about our data sources in the corresponding section of our user manual.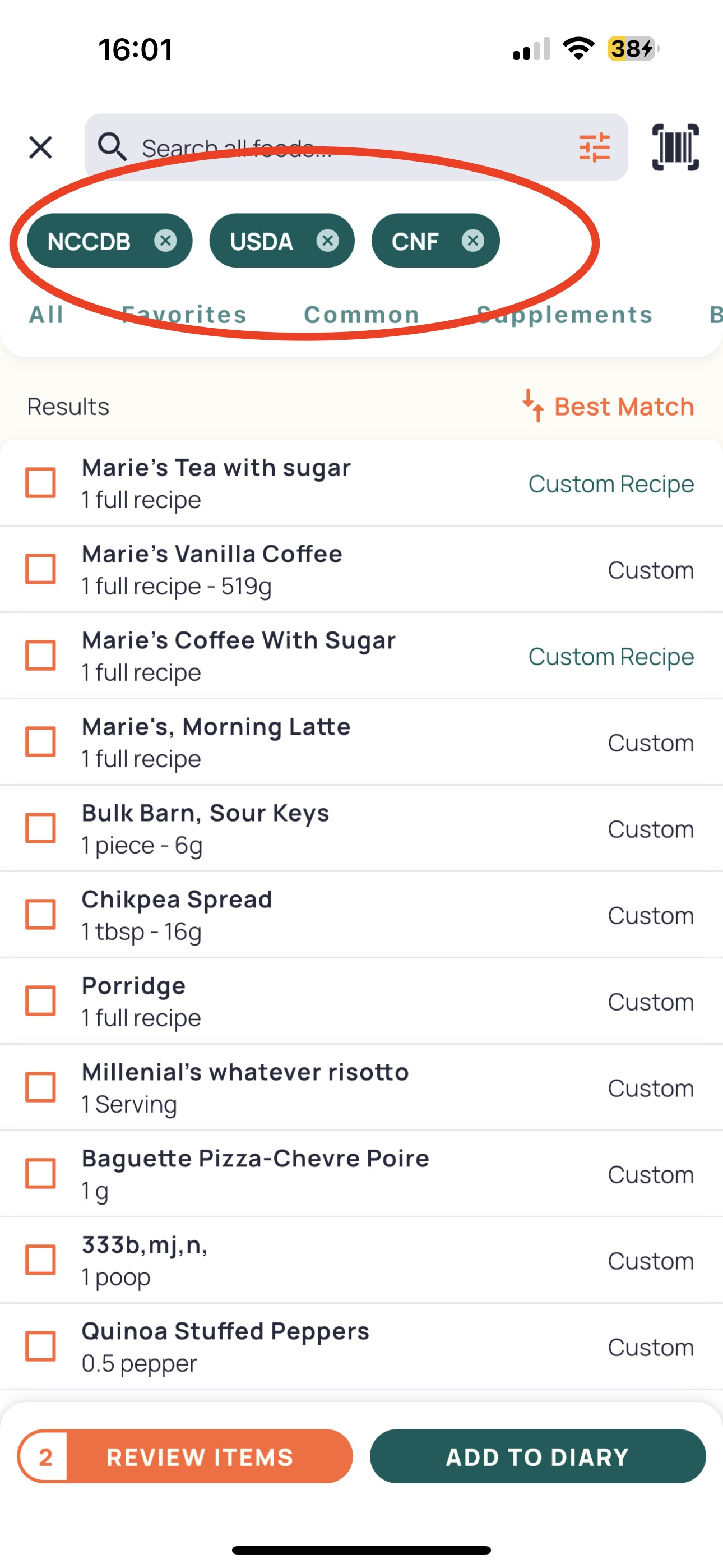 Better Alternatives
Some foods have a better alternative with more nutrients marked. Our curation team is hard at work identifying products in the brand database that have generic equivalents with better data. If they've tagged a food as having a better alternative, additional nutrients will be filled in to complete the data!
Have a look at this Blog Post for some tips and tricks to keep in mind when choosing foods!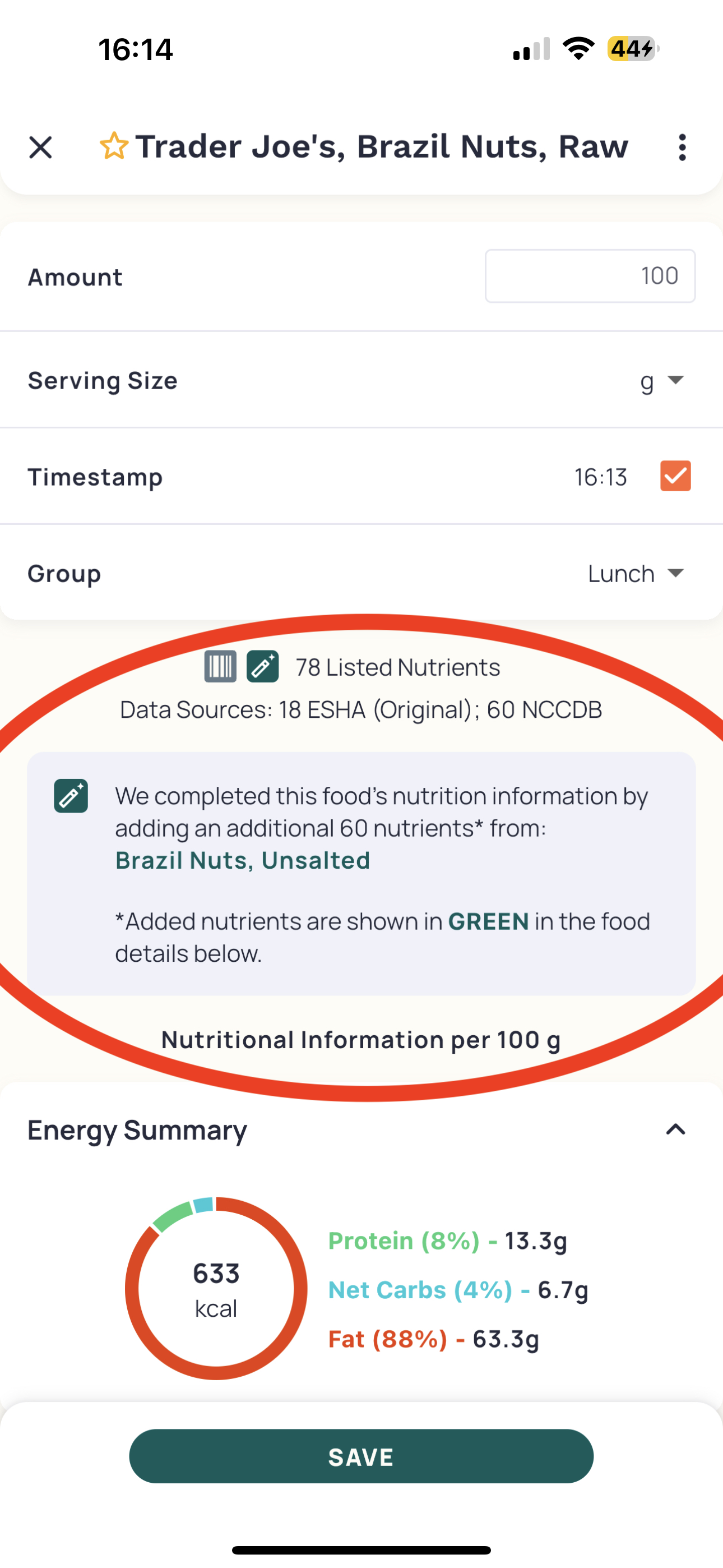 Favorites
If you use this food often, mark it as a favorite, so that you can easily find it in the favorites tab.
Tap the orange + at the bottom of your screen
Tap Add Food
Search for your food
Tap the food in the list to open the details
Tap the yellow star to the left of the food name
This food will now appear in the Favourites category tab
To remove a food from your favourites, navigate back to this screen and toggle the star off