Use the Add Biometric feature to add health marker metrics to your diary.

By default we offer 28 metrics in 4 categories:
1. Body
Bicep size
Body Fat
Body Temperature
Chest Size
Fat-free Mass
Height
Skeletal Muscle Mass
Stool
Total Body Water
Waist Size
2. Cardio
Blood Pressue (Systolic and Diastolic)
Heart Rate
Pulse Wave Velocity
V02 Max
3. Labs
25-Hydroxy Vitamin D
Blood Glucose
C-Reactive Protein
Ferritin
HDL Cholesterol
Hemoglobin A1C
Ketones (Blood)
Ketones (Breath)
Ketones (Urine)
LDL Cholesterol
Total Cholesterol
Triglycerides
4. Mental
In this article, learn more about:
Steps to Add a Biometric
Click the Add Biometric button.

The Add Biometric window will open. Search for a biometric by name using the search field at the top, or browse all to view biometrics in each category.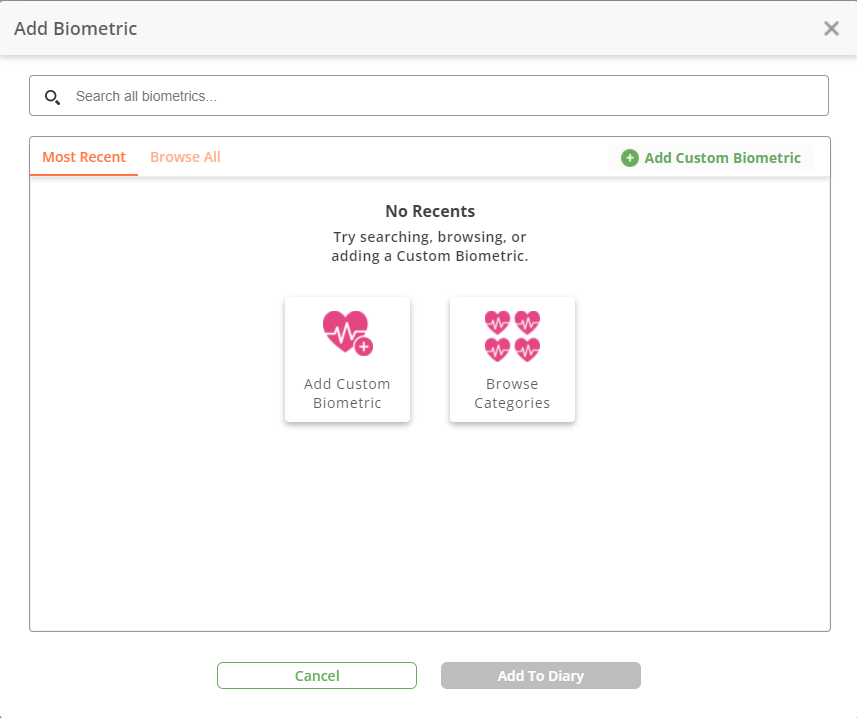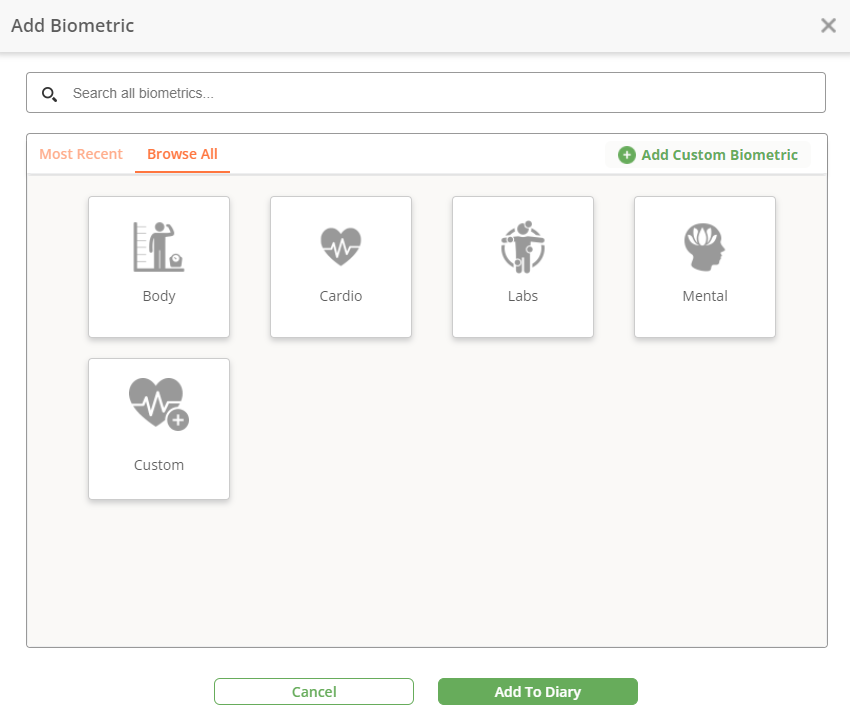 Enter a value for your biometric in the corresponding field. Use the drop-down menus to select the appropriate unit of measurement for the biometric you are adding.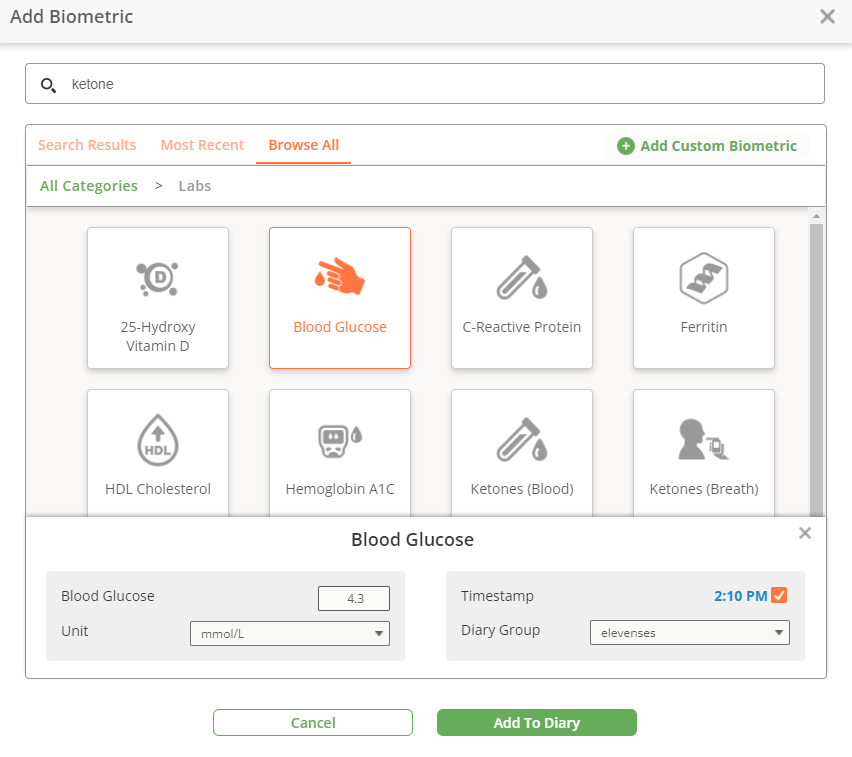 Click the Add to Diary button when you are finished. The biometric will now appear in your diary.
You can sync devices or apps to import biometrics.
Create a Custom Biometric
To add a custom biometric choose the green + Add Custom Biometric on the left-hand side of the window.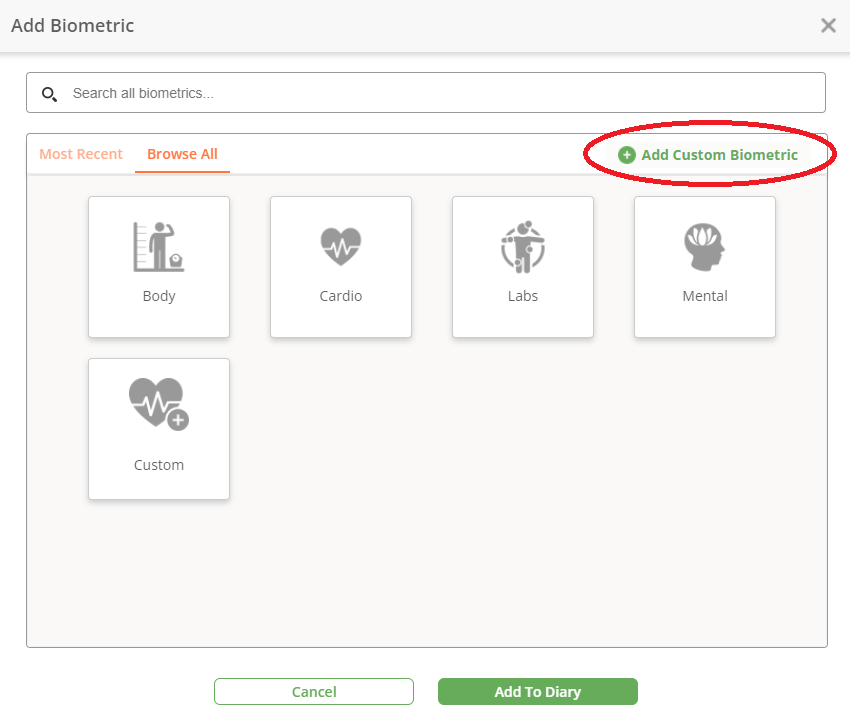 Choose a name and unit of measurement for your custom biometric. This custom biometric will be saved to your library.

Once you have created this biometric you may access it to use at any time from the custom biometric category.
If you wish to remove a custom biometric from your list, select the biometric from the list. Then click on Delete Custom Biometric.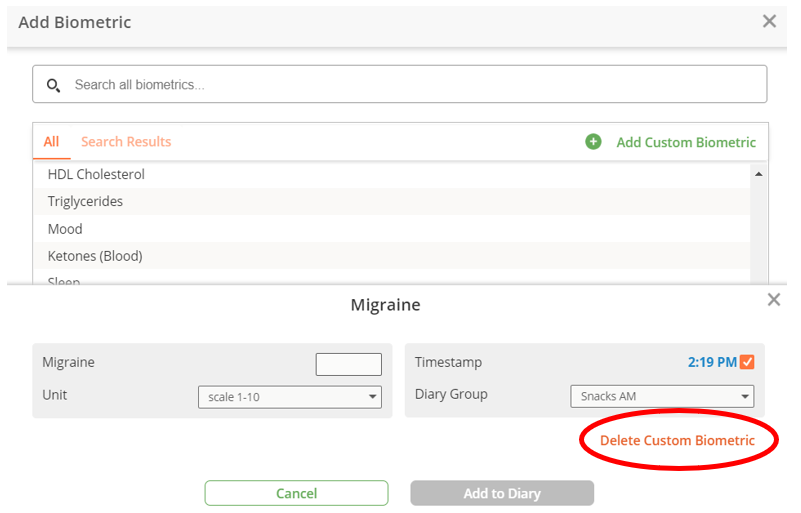 Adding Ketone & Glucose Readings
If you are following a Ketogenic diet, you may be tracking Ketones and Blood Glucose quite closely. For this reason we have added a shortcut on the diary page that will appear if you have selected the Keto Calculator option in the Settings Tab of Cronometer. This shortcut will appear on the side panel of your main diary page.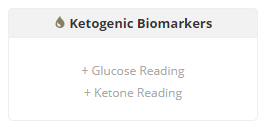 Clicking on the shortcuts will result in an Add Biometric pop-up dialogue. Entering Ketone and Glucose Values here will result in the appropriate biometric being added to your diary.