Cronometer's charts offer a great way to visualize your long term data to more accurately track your health, and use the data for goal-setting and motivation.
Each chart in this section is configurable. Ensure you have familiarized yourself with the available options before viewing your charts in order to optimize the presentation of your data for your particular needs.
You will also find some charts on your Diary page. These charts are not as configurable, however can provide useful on-hand information when quickly viewing your diary.
This article will cover:
Chart Categories
Default Charts
Calories Consumed and single metric charts are available to all users (Gold, Pro, and free). All users can choose any time frame to chart. You can choose custom time frames and also choose which day types (ex. completed days, non-empty days) you would like to see plotted in your graph.
Calories Consumed: View your macronutrient values over a period of time.

Metrics : Any metrics you've logged in your diary can be viewed here or exported

Gold users have access to a number of single and multi-variable charts. To access these charts, click Manage Charts in the top right corner of the charts page, then check the box next to each chart name to add it to your charts page.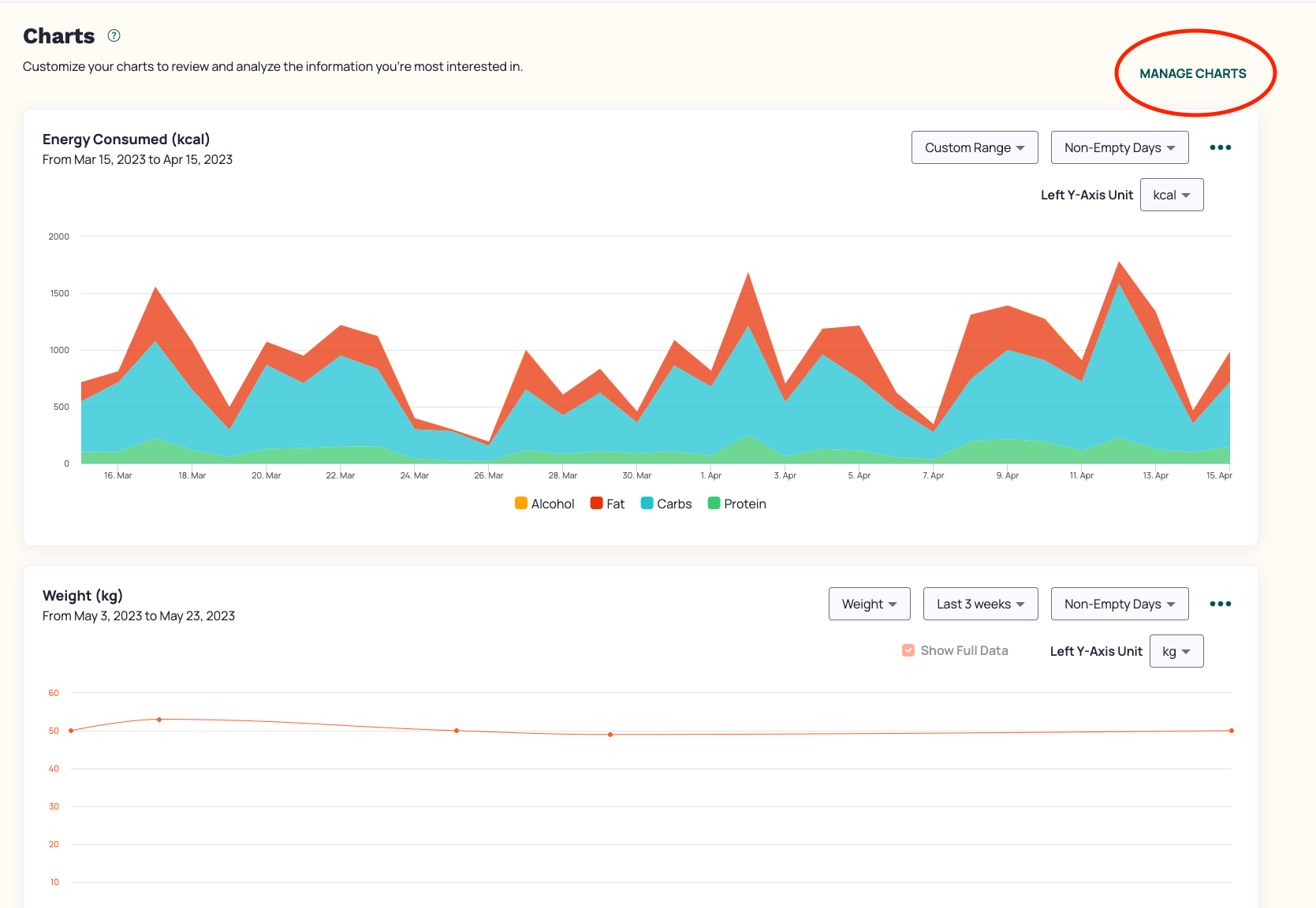 Your chart library includes:
Single Nutrient
Lipid Panel
Weight + Body Fat
Weight + Waist Size
Gold users can also create Custom, single or multivariable charts to pin to their main charts page. Create a custom chart by clicking Manage Charts in the top right corner of your charts page, then click + Add Custom Chart.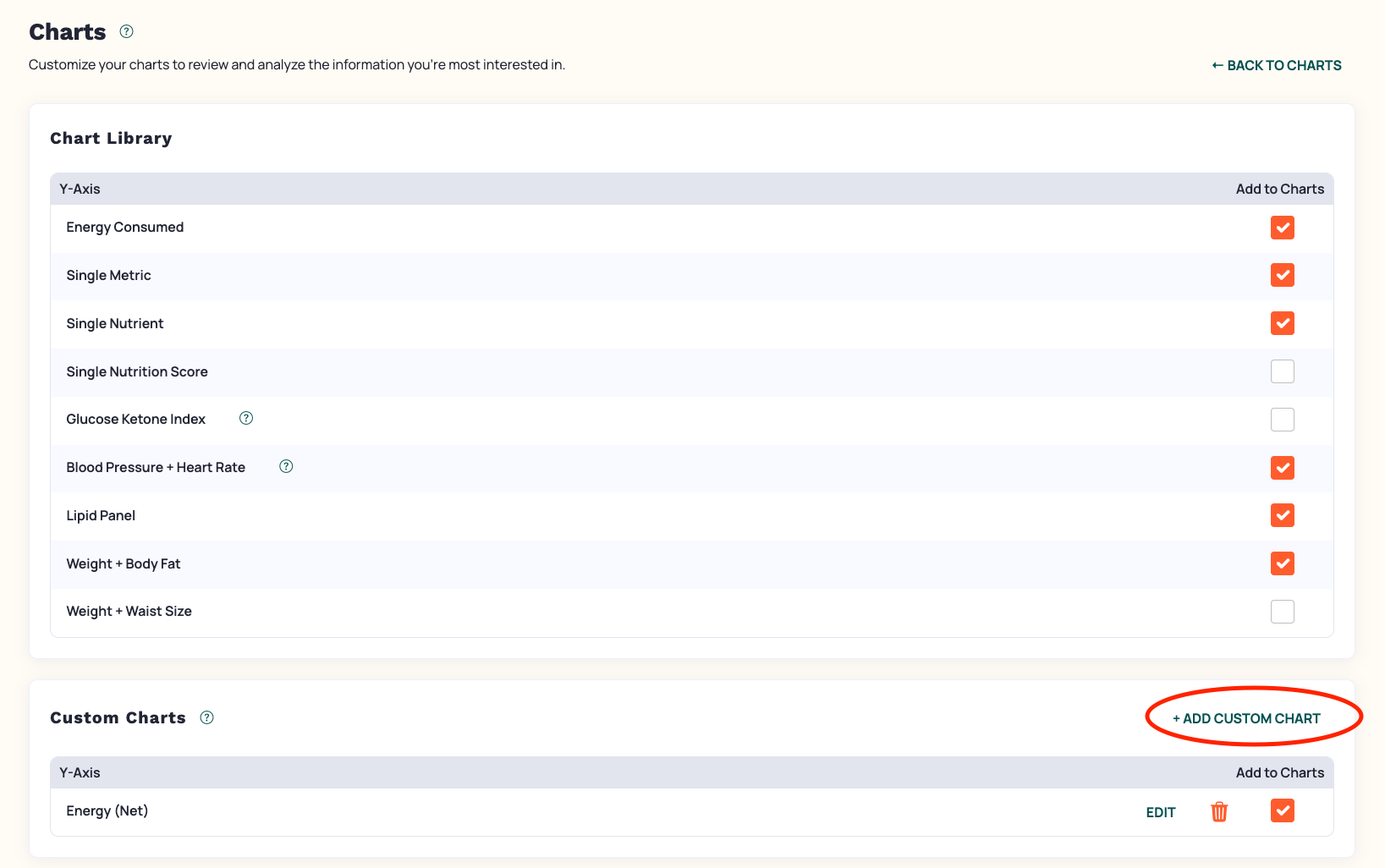 Free users can also create custom charts by exporting your data.
General Chart Settings
Choose a Timeframe
You can choose from a number of preset time frames or, set your own custom time range.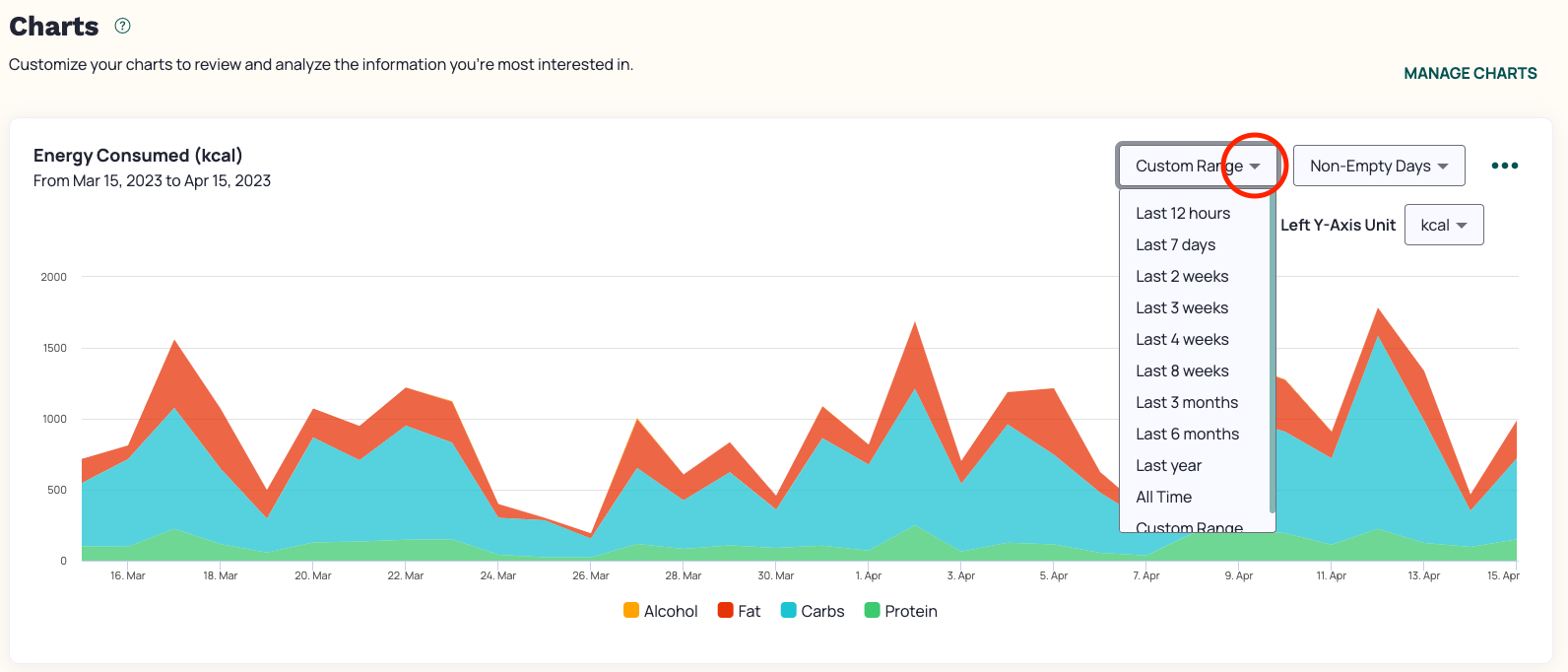 Choose what type of days you would like to include
What happens if you forget to log your food one day? Remove empty or incomplete days, in order to see a more accurate result. You can mark days as complete or incomplete in your daily diary.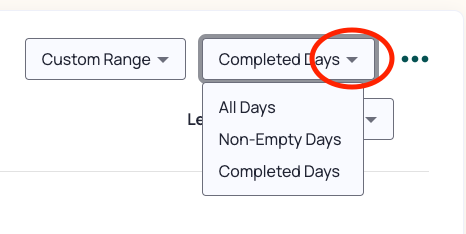 Show Trend
You can choose to show the trend line in the Metric and Nutrient Graphs. The trend line will show the rolling average of your data to see the underlying trend for your data.
Zoom To Fit
Selecting Zoom To Fit will select an appropriate time frame and y-axis range to remove any empty space in the graph. (Tip: If you can't see some days in the time frame you have manually selected, it is likely you have selected this box, thus removing the empty days!)

Export
Use the settings menu in the top right corner of the chart to choose from a number of different formats to either print the graph, or create an image or document from the graph!

Show/Hide Target Line
Use this option from the menu to show/ hide a visual indicator of the targets you have set for the charted nutrient. Targets will be indicated in green between your maximum and minimum values set.

Show Fast Periods
Toggle on Show fast periods to overlay your fasting period with your plotted chart.