The Energy Summary section is found below your diary and shows all energy consumed and burned in kcal or kJ. Here, you can see at a glance if you have an energy surplus or deficit. In other words, if you have eaten more energy than you have burned for the day (a surplus leads to weight gain) or burned more energy than you've eaten (a deficit leads to weight loss).
Displaying the Energy Summary in your diary is optional. To remove or show the Energy Summary and Macronutrient Targets section, visit the Settings > Display tab.

Energy Consumed
The circle labelled Consumed displays total energy in the foods you have logged in your diary. The number in the middle of the circle is the total energy consumed. Hovering your mouse over each colored section of the circle displays the number of kcal or kJ for each macronutrient consumed as a fraction of your total energy consumed for that day, as well as the percent of total energy coming from each macronutrient.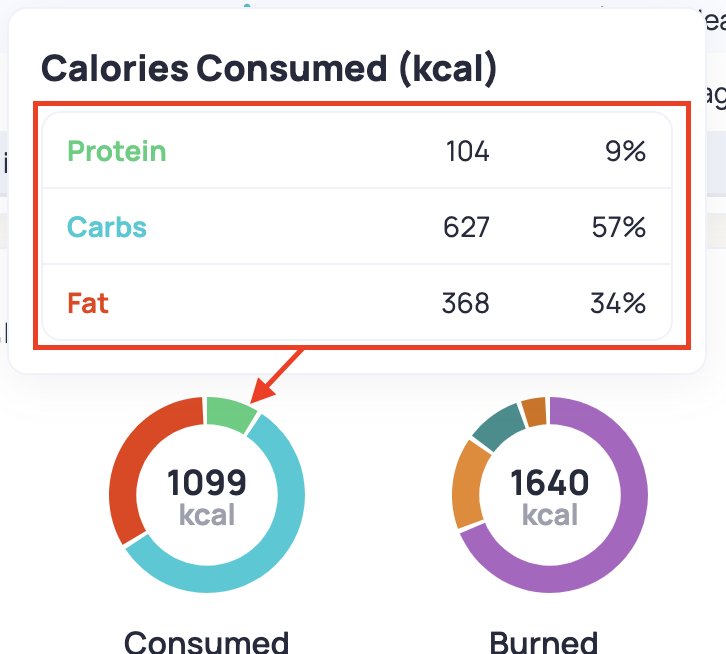 Energy Burned
The circle labelled Burned shows your energy burned for the day including your BMR, general activity setting and if you have selected these options in your Energy Burned settings it will also include exercise manually logged or imported from devices and the thermic effect of food (TEF). Hover your mouse over each colored section to see what has contributed to your energy burned.
Total daily BMR and general activity are automatically logged at the beginning of each day by Cronometer. If you are wondering why your diary says you have burned energy already today even when you haven't logged any exercise yet, these values are why!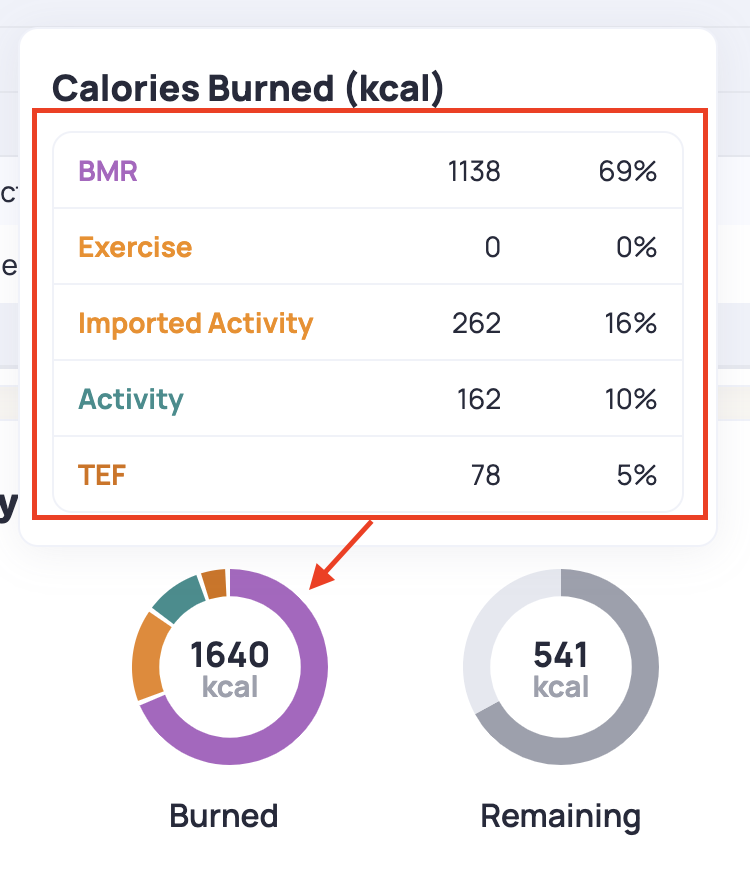 Energy Balance
If you have selected the option to maintain weight (in other words you have not set a rate of weight gain/loss) you will see the Balance icon to the right of your Consumed and Burned graphics. Your Balance icon shows the difference between your calories burned and calories consumed.
In the example below, 1640 kcal burned - 1099 kcal consumed = 451 kcal remaining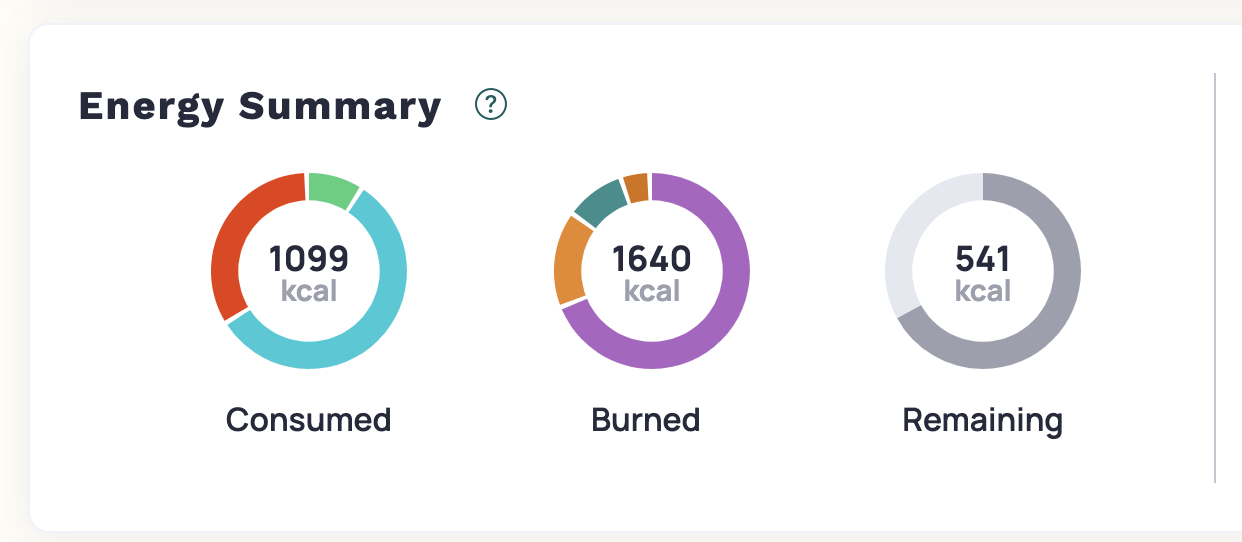 Energy Budget
If you have set a weight gain or loss goal, the Budget icon will show you how many calories or kJ you have remaining according to the rate of weight gain/loss you've selected in your settings.
Budget = Energy Burned - Energy Consumed +/- additional energy required for weight goal
The pop-up box describes in words how much energy you need to maintain your weight, and how much you need to meet your weight goal.
The example below includes a weight loss goal of 0.6 lbs per week, requiring a deficit of 299 kcal per day.
1650 kcal burned - q689 kcal consumed - 249 kcal for weight loss = 210 calories over.
In this case, you have gone over your Energy Budget, even though you are still in an energy deficit (burned more energy than you've eaten), and as a result your rate of weight loss may be slower than the rate you are aiming for.