Macronutrient and micronutrient targets are fully customizable in Cronometer.
Learn how to:
Editing Targets in Settings

To edit a nutrient target in the Settings tab, choose Profile + Targets, then scroll down to the Nutrient Targets section:
Tick the Custom checkbox for that nutrient.
Click the value to make it editable.
Type in the value you want and hit enter to save the change.
The minimum target will be the one seen in the Nutrients Target Summary section of the diary.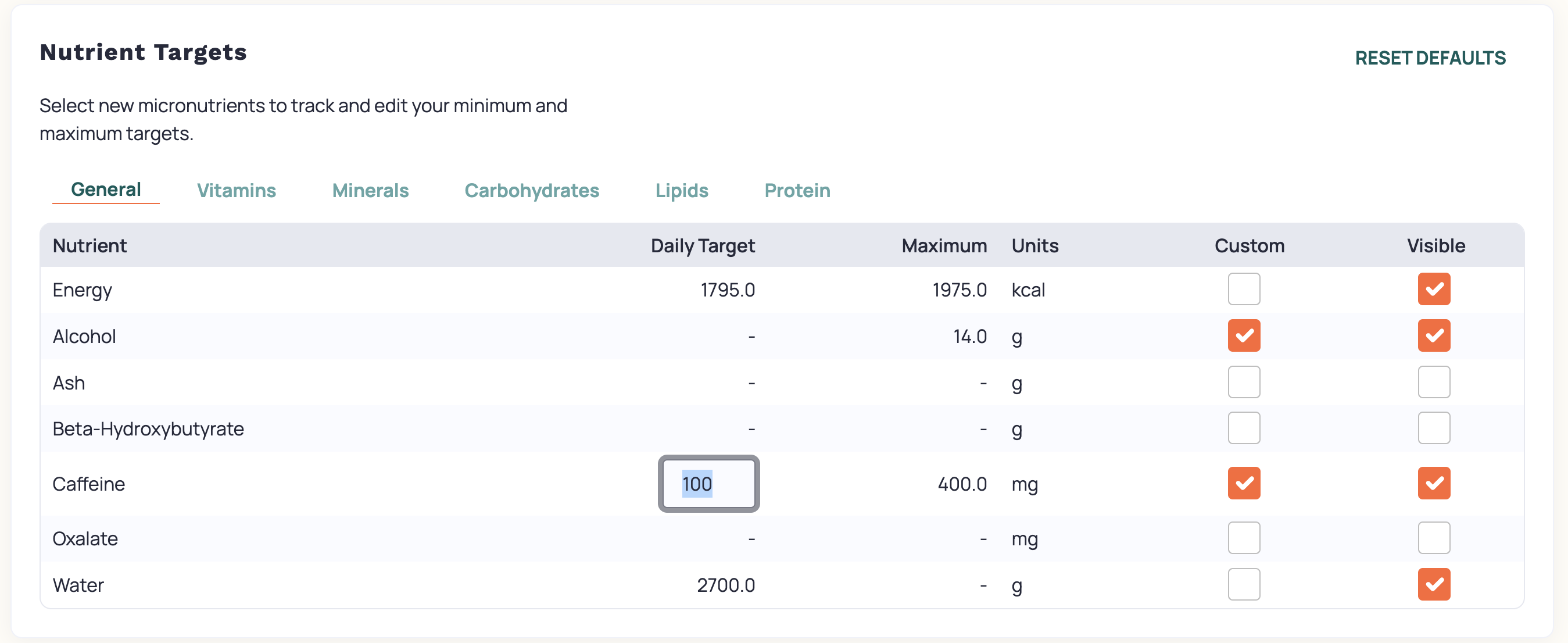 Please note, macronutrients are only editable in Nutrient Targets section when you are tracking your macros using Fixed Values. Otherwise, your macronutrient targets are calculated automatically for you based on your energy burned each day. Visit the Macronutrient Targets section to change how you're tracking your macros.
Add or Remove Nutrient Targets
To make nutrients visible in your nutrients summary, tick the Visible checkbox. Remove the tick from a box in the Visible column to remove a nutrient from your nutrient targets.
Some nutrients are not visible by default as they are not generally available from our nutrition data sources. Since there is very little data for these nutrients in our database, the values reported in your nutrient targets may be significantly lower than your actual intake.
Editing Targets From the Diary
On the main Diary tab, scroll down to the nutrients section and click on the target bar of the nutrient you want to change.

A pop-up window will appear:
Click the toggle to use custom values instead of the DRIs.
Enter your new Daily Target number.
Click the Apply button.