Choosing a Ketogenic macronutrient target is a special dynamic macronutrient target setting. Instead of targeting specific ratios, Cronometer dynamically calculates a maximum protein target based on your lean body mass, a maximum carbohydrate target and sets the remainder of your energy allowance to fats.
Learn more about: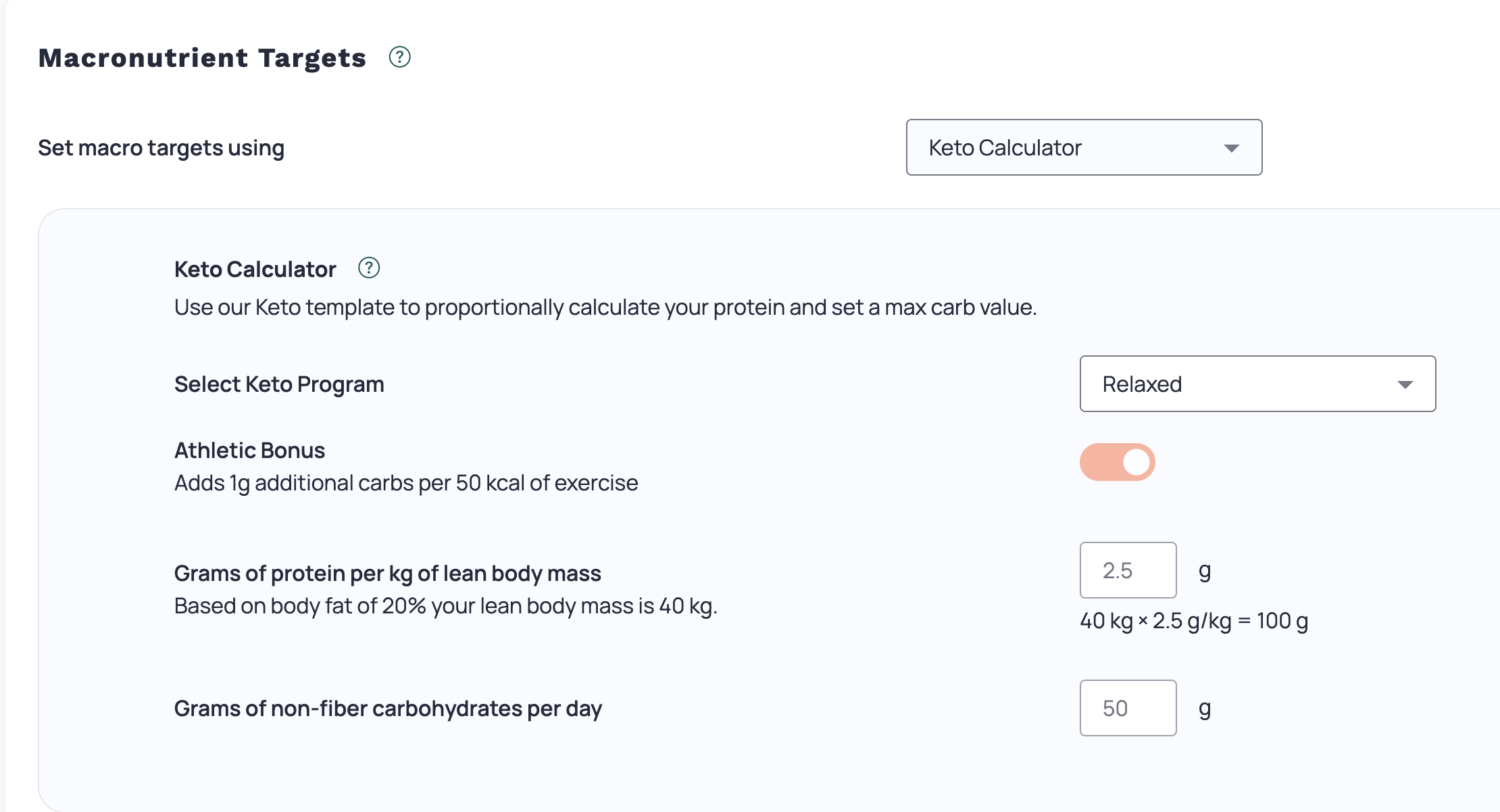 Keto Programs
Rigorous
Recommended for people doing a ketogenic diet for therapeutic reasons (cancer, epilepsy, etc.) where limits on carbs and protein are very tight. Also a good setting for people who are very sensitive to carbohydrates and cannot easily maintain nutritional ketosis without very strict limits.
Moderate
A good range for most people practicing a ketogenic diet for weight loss or health benefits.
Relaxed
For users who are very athletic and/or have determined through self-monitoring that they can maintain ketosis at higher levels of carbohydrate and protein intake.
Custom
Lets you edit any of the values as you and your health care team see fit.
Energy Target Calculation
Your energy target will be derived dynamically from your total energy burned for the day (BMR, activity, and exercise) as well as your weight goal. The energy target will dynamically change throughout the day if you log exercises or change a weight or body fat % biometric. This will also consequently change your macronutrient targets.
Protein Target Calculation
Your maximum protein is based on a multiplier for each kilogram of lean body mass (LBM). For strict ketogenic diets, this is typically 1.0 gram of protein per kg LBM, and the Moderate setting is at 1.5 grams protein per kg LBM.
Pregnant and breastfeeding women will have an additional 25 grams of protein added — but please note we recommend pregnant or breastfeeding women consult a medical professional before trying a ketogenic diet.
Since the maximum protein target is set based on your lean body mass, for the best estimates, you should periodically record your current body fat % to your diary or profile.
If you are unsure of how to measure your body fat %, see our handy section for tips on measuring your body fat %.
Carbohydrate Target Calculation
Your carbohydrate target is based on the chosen Keto Program.
The Athletic Bonus will add an additional 1 gram of carbohydrates for every 50 kcal of exercise. Those that are highly athletic can typically handle more carbohydrates without hampering ketosis.
Fat Target Calculation
The rest of your energy left for the day come from the fat.
If you set a weight loss goal, the fat target is reduced to reach the energy deficit.