Customize your macronutrient targets in the Profile + Targets tab.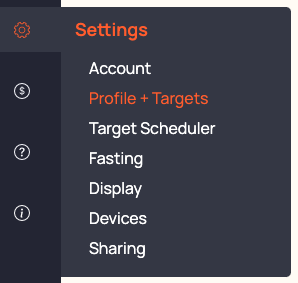 Macronutrient Target Preferences
Your macronutrient targets by default are set to a ratio that fit within the acceptable macronutrient distribution ranges recommended in the Dietary Reference Intakes. If you'd like to revert back to these default settings use the Reset Defaults button in the top right corner of the Macronutrient Targets section.

There are three different approaches to customizing your macronutrient settings with Cronometer. Choose the one which best suits your needs.
The Macro Ratios setting calculates your macronutrient targets by dividing your energy target between protein, carbs and fat to achieve the ratio of macros you've entered. Any time your energy target changes, your macro targets will update automatically for you to keep your ratio of protein:carbs:fat.
You can define a ratio based on energy (kcal or kJ) or by weight (grams). The percentage of energy coming from each macro will be displayed below each box.
Your macronutrient targets remain the same each day. This setting uses default values based on the Dietary Reference Intakes or you can customize your targets manually to set fixed gram amounts or energy targets for each macro. Choose 'Fixed Targets' from the drop-down menu. The select kcal (kJ) or grams. You will then be able to input your target values directly in the fields below. These values can also be changed by scrolling down to the Nutrient Targets section of the Profile + Targets tab or by editing the targets in the Macronutrient Targets section in the Diary tab.
This option is a special case. Instead of targeting specific ratios, we dynamically calculate a maximum target for your carbohydrate and protein targets and set the remainder to fats. Choose one of the preset ketogenic options or set your own.