Access the Settings tab from the bottom right of the screen.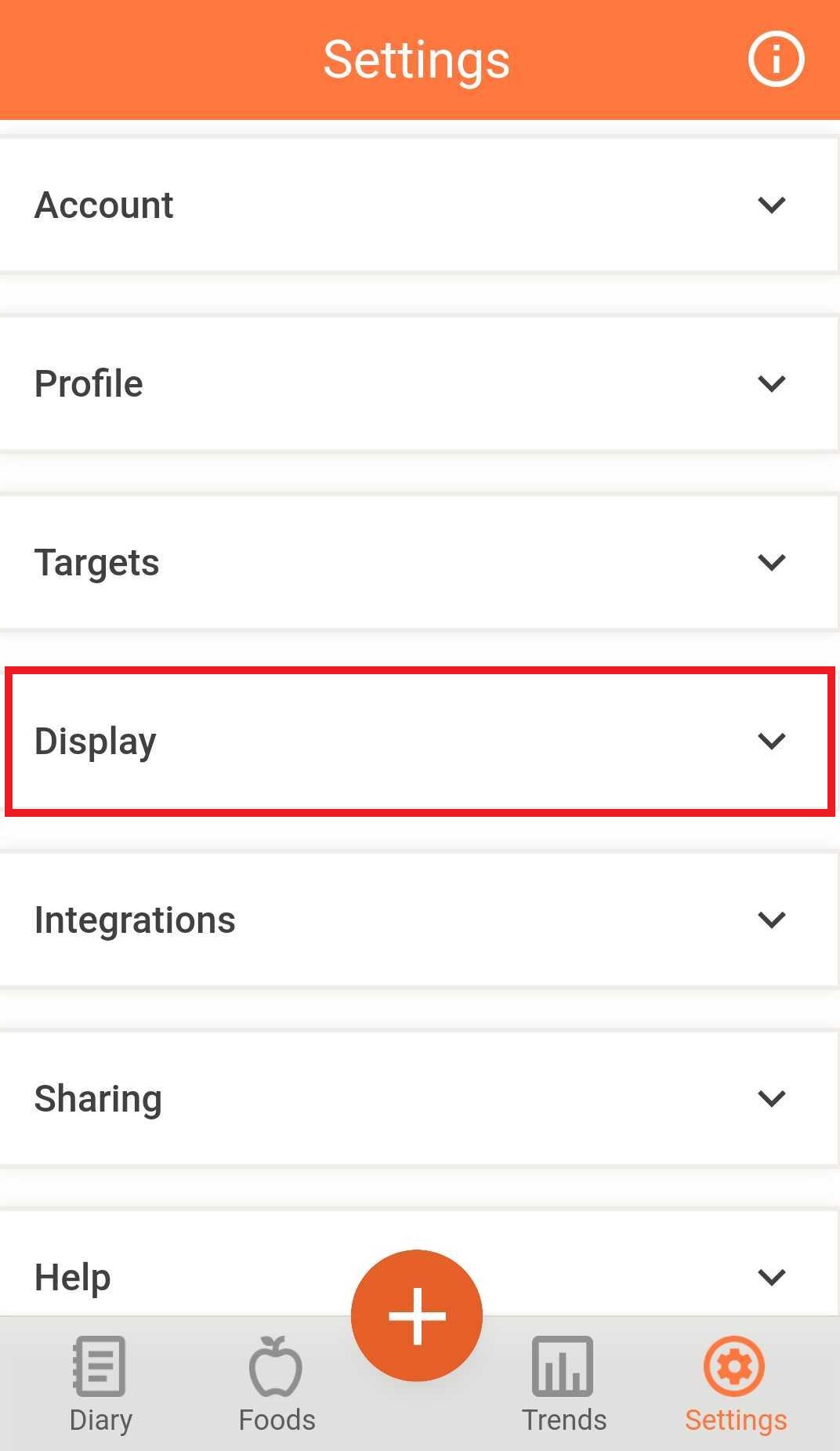 The Display section is where you can manage: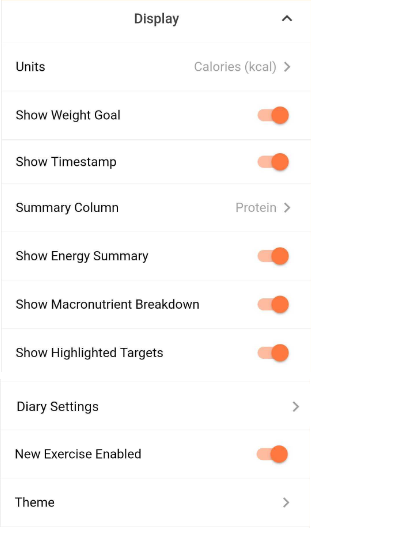 Units
Display energy in Calories (kcal) or kilojoules (kJ).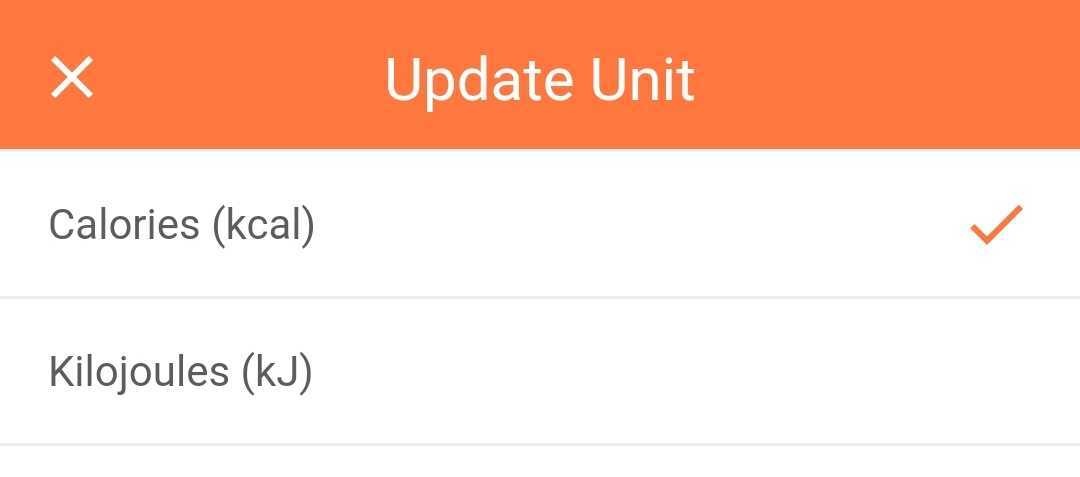 Show Weight Goal
Toggle this option on to add/subtract your rate of weight gain/loss to your energy budget equation in the Energy Summary. If you'd rather keep the Energy Summary a display of your energy balance, in other words the difference between your Energy Burned and Energy Consumed, toggle this off. If you have a rate of weight gain/loss selected in your Energy Settings, it will still be applied to your Macronutrient Targets. Swipe the top banner in the diary to the left to view these targets.
Timestamps
Toggle Show Timestamp to display the time of day of each diary entry. This feature is only available to Gold subscribers.
Summary Column
Choose if you want to track another nutrient in your diary. By default, Calories are displayed for each diary entry.
Diary Banners
Toggle on or off any of these categories to display or hide them from the top banner on your main diary page.
Diary Settings
Toggle Show Groups to add separate meal categories to your Diary. This feature is only available to Gold subscribers.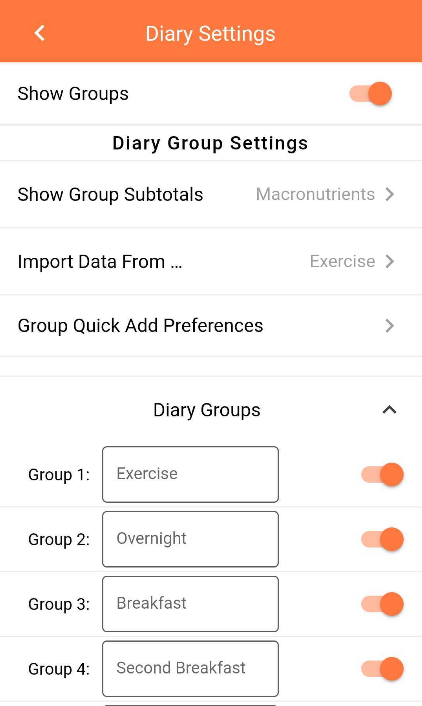 Toggle on the categories you would like to see in your diary. Tap the text to rename your diary groups. By default we have
Breakfast
Lunch
Dinner
Snacks
Other
But if you want an Afternoon Tea, or Workouts, or Supplements category, you have complete control.
Group Subtotals

Choose which sub-total you want to see for each diary group. We offer 3 options:
None
Calories:

Macronutrients:

Same as Summary Column in Diary:

Import Data from Device
You can also choose which group your connected device data goes to. For example, you can send all of your Apple Health Data to the 'Other'' group.
Group Quick Add Preferences
Tapping the green + beside each diary group name is a shortcut to adding data to that diary group.
You can customize each diary group to have a different shortcut to:
Add Food
Add Exercise
Add Biometric
Add Note
Or you can display all the above options when you tap on the green +. In that case, select 'All' from the list of group quick add preferences.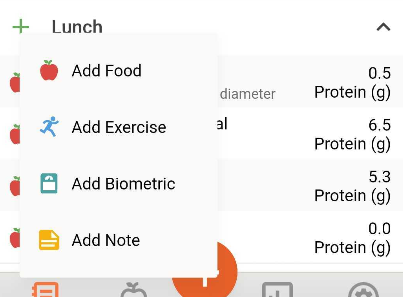 Theme
Choose if you want your app to be displayed in Light or Dark mode. Choosing System will set it to your phone's default settings.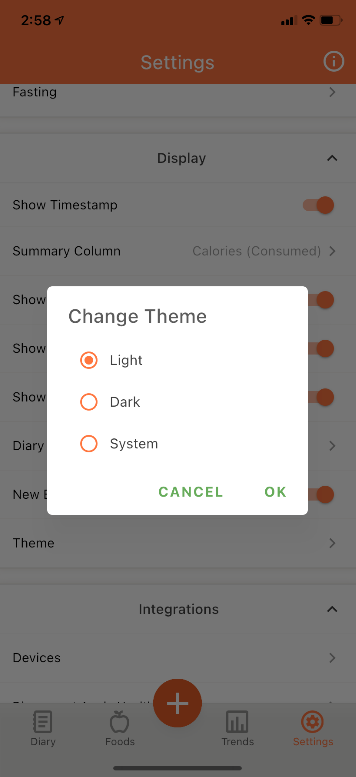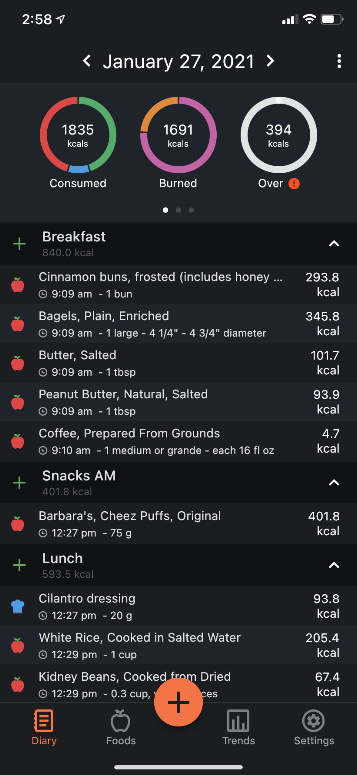 Learn about Display settings on the web version of Cronometer.