Gold subscribers will see nutrient balance meters at the bottom of the Nutrient Targets Summary. Go to Settings > Display to manage which Nutrient balances you would like to see.

You can look at the gauge as the value of the first nutrient divided by the value of the second nutrient. This number is shown in the middle of the gauge: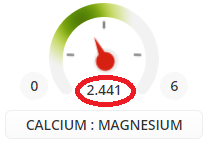 The number on the left and right ends of the gauge are the scale for each one, starting at zero on the left: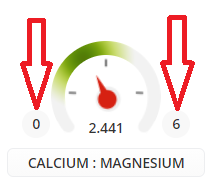 We indicate the optimal ranges as a green zone on the dial. So if your balance of Calcium: Magnesium shows your value on the right of optimal, you can decrease the ratio by either adding more magnesium or removing some calcium from your diet, to improve the balance.
You can read more about each of the following Nutrient Balances on our blog: