Add exercises to your diary to log additional energy you've burned based on the adjusted MET values given from the Compendium of Physical Activities.
This article will cover:
Setting an appropriate Activity level
Activity level considerations
You may notice that the energy burned from your activity level settings changes from day to day. This is a result of exercise added to the diary. As you add exercise minutes to your diary, Cronometer automatically adjusts your activity level energy burned in proportion with the number of minutes logged in order to ensure that resting energy time is not double counted in your energy burned calculation. For example, if you have set your activity level to sedentary, Cronometer reports an estimation of sedentary energy burned in 24 hours for that day. But, if you decide to go for an hour run, Cronometer should only report 23 hours of sedentary energy burned, as you are logging your exercise on top of that.
When manually logging exercise (or adding exercise from a device or other app) we recommend adjusting your activity level to account for the separately logged exercise. If you log only your exercise, consider changing your activity level to 'Sedentary". If you import general activity from a device as well as exercise, consider setting your activity level to 'None'.
Add Exercise to your Diary
Select the Add Exercise button on the diary screen.

Search for an Exercise
You can add exercise by:
Text-Based Search
Start by searching for an exercise using a text-based search. When you have found the appropriate exercise, select it from the list.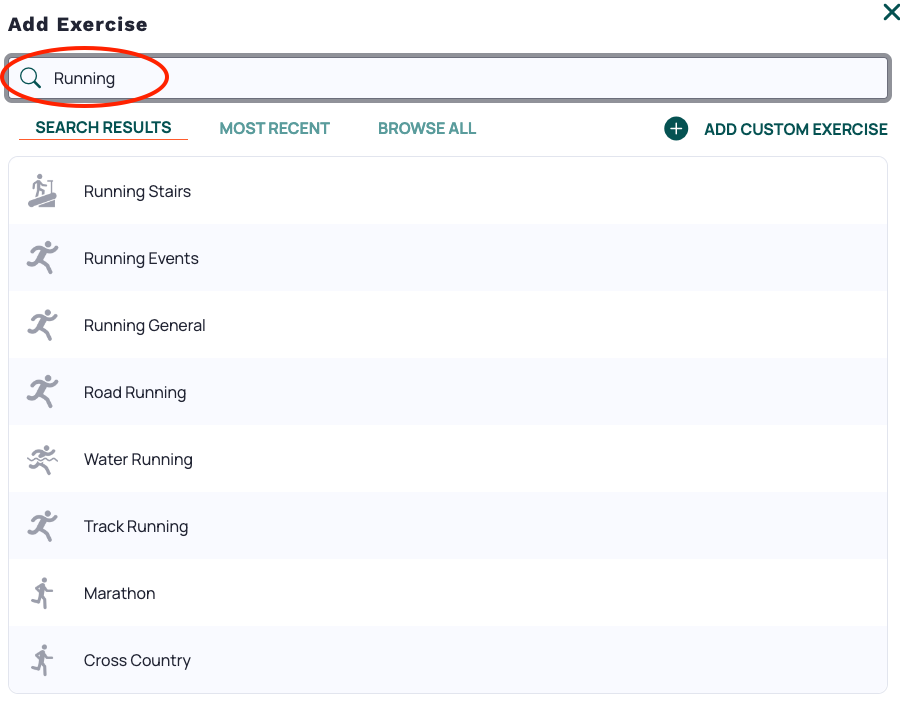 Select Effort level
Many of the exercises listed in our database offer multiple effort levels to account for differences in exertion. Select the one that most closely represents your exertion. If no options match, keep in mind, you always have the option to override your energy burned and enter a custom value.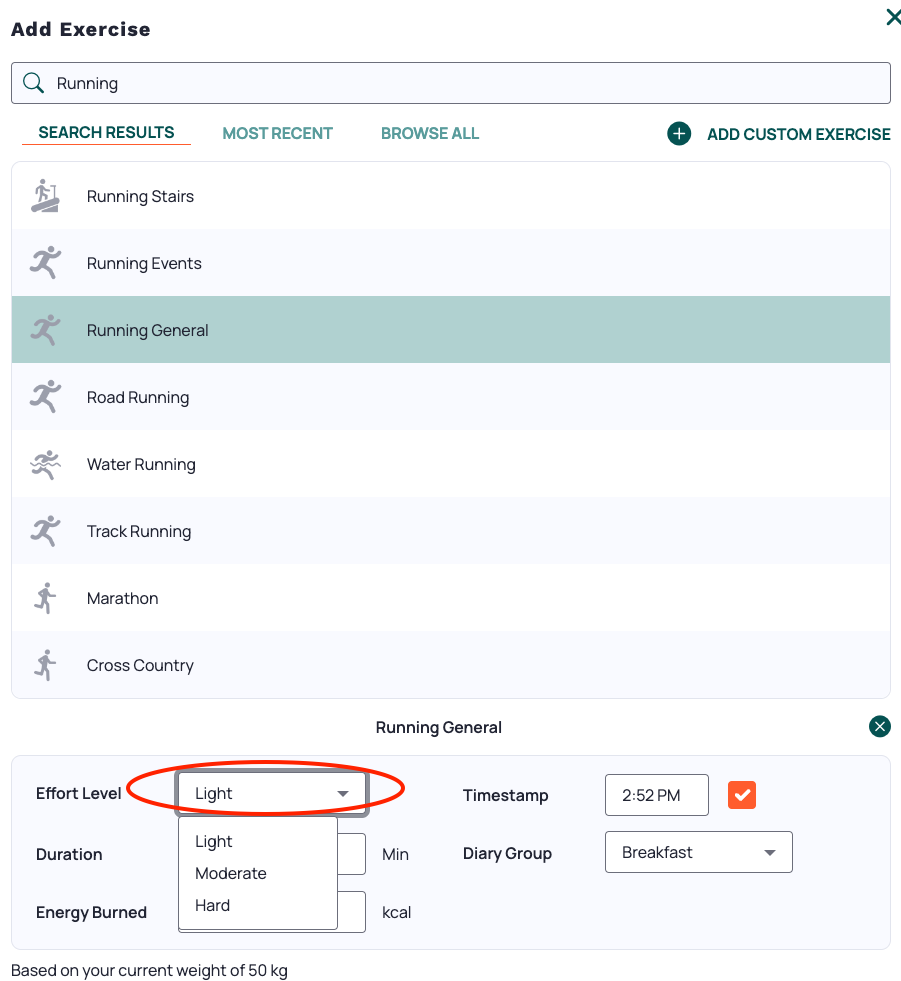 Enter Duration
Enter the amount of time you have exercised to update how much energy you burned. Or override your energy burned and enter in a custom value.

Adjust Energy Burned (Optional)
Cronometer estimates the energy you've burned based on the adjusted MET values given from the Compendium of Physical Activities. If you need to adjust this number for any reason, tap inside the numeric field and enter a custom value.
Add a Timestamp (Gold Feature)
The timestamp will default to the current time, but you can choose to edit the timestamp before you add the exercise to your diary.
Select a Diary Group (Gold feature)
The diary group will default to the selected diary group and you can choose to edit the diary group selection as you wish.
Add a Custom Exercise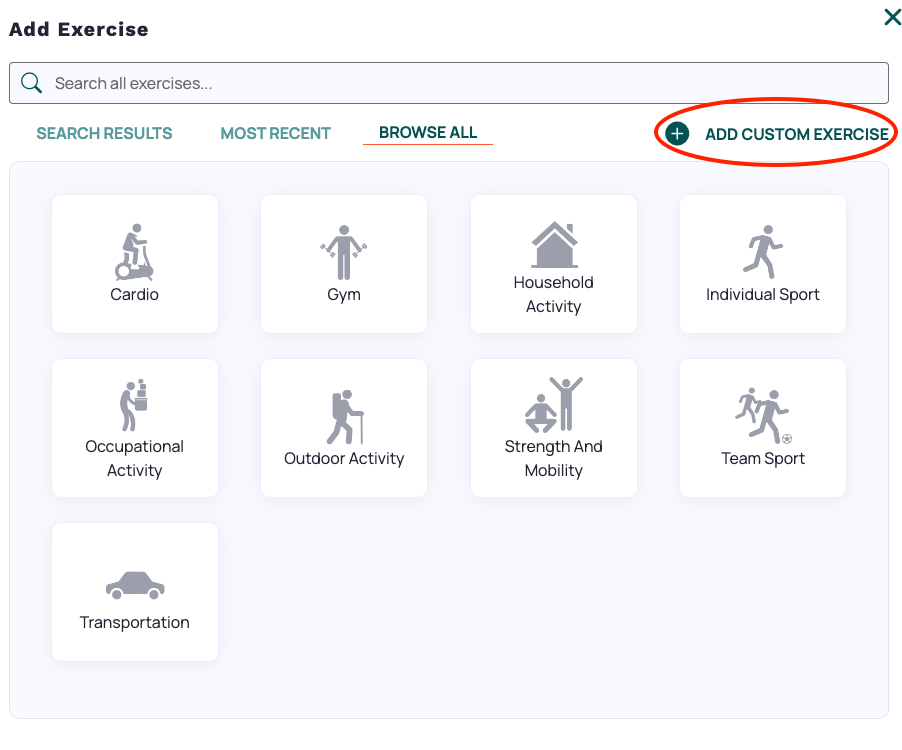 You can also add a Custom Exercise if you cannot find an equivalent activity in our exercise database. You will then be prompted to name your exercise and enter the appropriate values.

Browse the Exercise Database
Use the Browse all button to view our entire exercise database and browse by category. Select an exercise from this list to add it to your diary.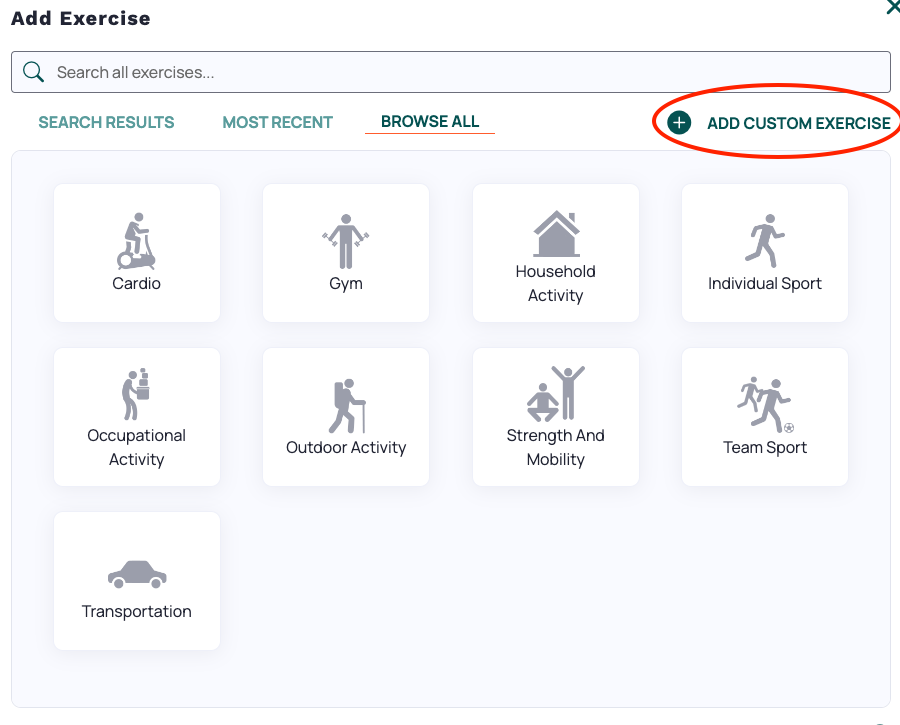 If you track activity using a wearable device or an app such as Google Fit or Apple Health, you can sync Cronometer to automatically update exercise!
Regardless, if you are manually logging exercise with the Add Exercise button, or using an activity tracker, ensure you have selected the appropriate activity level in your More tab.